Chocolate Macaroons Recipe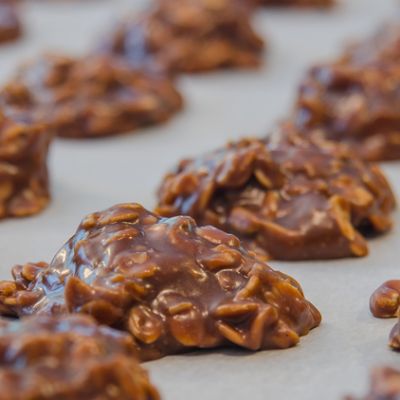 A no bake classic. Get the kids to help. Easy and fun to prepare and especially fun to eat!
Ingredients
Makes 4-5 dozen cookies
2 cups granulated sugar
1/2 cup milk
1 stick (8 Tablespoons) butter
1/4 cup unsweetened cocoa powder
1 cup smooth peanut butter
3 cups old-fashioned rolled oats
1 teaspoon pure vanilla extract
Large pinch salt
Directions
To prepare, line a baking sheet with parchment paper.
In a medium size saucepan over medium heat, bring the sugar, milk butter and cocoa to a boil. Stir as needed and let boil for one full minutes.
Remove from the heat.
Stir in the peanut butter.
Stir in the rolled oats.
Stir in the vanilla and salt.
Use a teaspoon to make drops of the cookie mixture onto the prepared pan.
Let sit at room temperature until cooled and hardened.
Transfer to an airtight container and keep refrigerated for up to 3 days.