Chocolate Marshmallow Fondue Recipe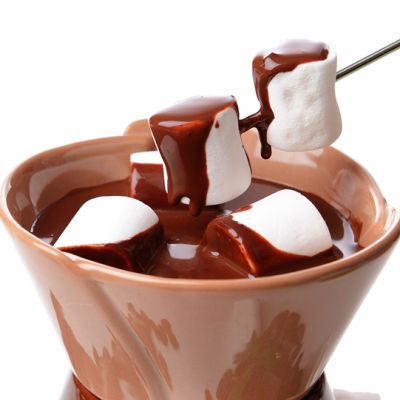 This chocolate marshmallow fondue is a real treat for the kids. You can even find the recipe to make your own marshmallows in our website by typing in the search area "homemade marshmallows".
Ingredients
2 cups milk chocolate chips
4 Tablespoons whipping cream
Dippers
Marshmallow
Also you can try
Fruits (bananas, apples, strawberries, grapes, ect...)
Pound Cakes (chocolate, vanilla, banana, ect...)
Cake donuts
Directions
In a double boiler or a pot filled with water and a bowl, melt chocolate with cream over low heat.
While chocolate is melting prepare your dippers. Along with marshmallows, cut up some fresh fruit to go along. Then you can mix and match your favorites.
When chocolate is melted transfer to your fondue set, or just use the bowl and some forks.
A fun little game with fondue is if someone loses there dipper they have do something silly. Enjoy