Chocolate Mocha Cake Recipe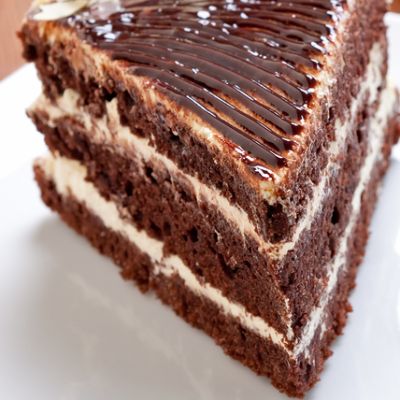 This chocolate mocha cake makes a beautiful three layer cake that has a delicious buttercream frosting and is drizzled with chocolate ganache. Delicious!
Ingredients
Cake
3 cups cake flour
1 cup cocoa powder
2 teaspoons baking powder
1 teaspoon baking soda
1 teaspoon salt
2 1/2 cups granulated sugar
4 eggs
3 teaspoons pure vanilla extract
2/3 cup of strongly brewed coffee
1 1/2 cup vegetable oil
1 1/2 cup hot water
Buttercream Frosting
1/2 cup butter, at room temperature
3 cups confectioner's sugar
1 teaspoon vanilla extract
3 Tablespoons cream
Ganache
1/4 cup dark chocolate melting wafers
1/4 cup heavy cream
Serves 6 - 8
Directions
Cake
Preheat oven to 350 degrees F.
Grease and flour 3 - 10 inch round cake pans with butter.
Whisk together flour, cocoa powder, baking powder, baking soda, salt and sugar. Mix in eggs, vanilla, coffee and oil until fully incorporated. Stir in hot water.
Pour batter into prepared cake pans and bake for 25 - 30 minutes, or until an inserted toothpick comes out clean. Set to cool, once cool enough to touch turn cakes out of pans and let cool completely on a wire rack.
Buttercream Frosting
Mix together butter, sugar, vanilla and cream. Then beat for 5 minutes.
Ganache
In a double boiler or a pot filled with water and a bowl melt chocolate and cream together. Stir till its smooth. Let cool slightly.
Assembly
Ice between each layer and on top of cake with buttercream frosting. Drizzle ganache over top of icing. Serve.