Chocolate Muffins With Berries Recipe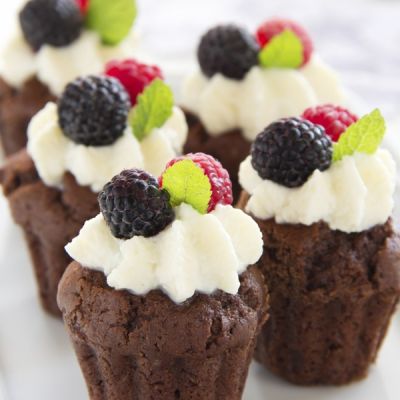 A Delicious and sweet chocolate muffins recipe, served topped with berries and whipped cream.
Ingredients
Muffins
1 cup all purpose flour
1/3 cup cocoa powder
3 teaspoons baking powder
1/3 cup brown sugar
1/2 cup butter, melted
1/2 cup milk
1 egg, whisked
Topping
1/2 cup heavy cream
2 teaspoons granulated sugar
24 blackberries
24 raspberries
mint leaves
Directions
Preheat the oven to 350 degrees F. Grease and flour 24 mini muffin tins.
Sift flour, cocoa and baking powder. Stir in sugar. Make a well in the center.
Whisk together the butter, milk and egg.
Pour into the flour mixture and gently stir to combine.
Fill mini muffin pan and bake for 10-12 minutes.
Let them cool in the pan for 5 minutes before removing to a wire rack to cool.
Using an electric mixer, whip cream and sugar until stiff peaks form
Top muffins with whipped cream and berries to serve.