Chocolate Pasta Recipe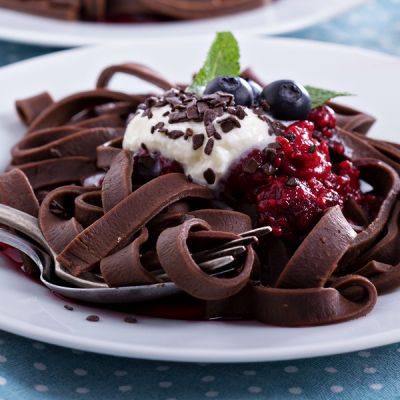 This recipe is for yes, chocolate pasta. It is fun to make and surprisingly satisfying.
Ingredients
2 cups cake flour
3/4 cup all-purpose flour, plus enough to sprinkle work surface
1/4 cup unsweetened cocoa powder
1/8 teaspoon salt
4 large egg yolks, at room temperature
1/4 cup extra-virgin olive oil
1/3 to 1/2 cup water, plus extra as needed
Top with fresh fruit and double cream.
Directions
In a food processor, pulse flours, cocoa powder, egg yolks and salt.
Gradually add the oil then water until the mixture forms a dough.
If the dough is too dry, add more water a Tablespoon at a time.
Sprinkle a clean work surface with flour.
Shape dough into a ball and knead until smooth, about 5 minutes.
Cover with plastic wrap and refrigerate for 30 minutes.
Cut the dough into 4 pieces, and press each piece flat.
Run pasta dough through a pasta machine, adjusting the settings thinner and thinner until dough is about 1/8 to 1/16 inch thick.
If you do not have a pasta machine, roll with rolling pin.
Cut the pasta into linguine noodles, or place through appropriate pasta setting.
Boil for 8-10 minutes until tender to bite.