Chocolate Pear Brownie Cake Recipe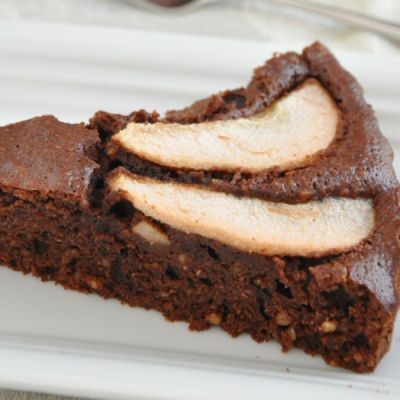 A sweet and delicious recipe for chocolate pear brownie cake.
Ingredients
1 cup semi-sweet chocolate, chopped fine
2/3 cup all purpose flour
2 Tablespoons cocoa powder
1/2 cup granulated sugar
1/2 teaspoon baking powder
2 large eggs
1/2 cup butter
2 Tablespoons cream
1 pear, cut into thin slices
Directions
Preheat the oven to 375 degrees F. Grease a 8 inch round baking pan.
Chop the chocolate and melt in a metal bowl over barely simmering water.
Melt the butter.
In a bowl, stir together the flour, cocoa powder, sugar and baking powder.
Add the eggs, cream and melted butter. Mix quickly until just blended.
Add the melted chocolate and stir just until combined.
Pour the batter into the baking pan, smoothing out the top. Top with pear slices around edge.
Bake for 25 minutes.