Chocolate Silk Pie Recipe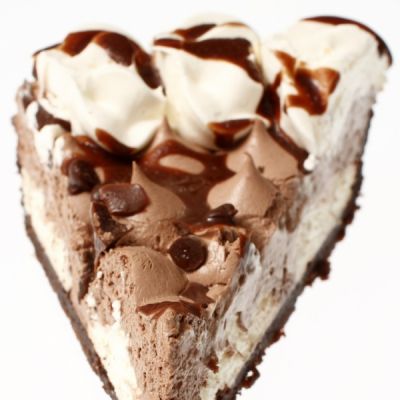 A creamy delicious recipe for Chocolate Silk Pie
Ingredients
Silk Piecrust , Filling and Whipped Cream
7 ounces chocolate sandwich cookies (about 17 cookies)
4 Tablespoons unsalted butter, melted (or 1 ready made chocolate pie crust)
2 cups heavy cream, divided ( 1 1/2 cups for the silk pie and 1/2 cup for whip cream garnish)
8 ounces bittersweet or semisweet chocolate, chopped or 8 ounces of dark chocolate chips2 cups miniature marshmallows
3 Tablespoons sifted unsweetened cocoa powder
1 Tablespoon sugar
Drizzle
1/2 cup chocolate chips
1/2 cup cream
Directions
Crust and Pie Filling
Preheat oven to 350 degrees F. Grind cookies in a food processor. Mix in butter until crumbs are moistened. Press into a 9 inch pie pan. Chill for 15 minutes. Bake until set, 10 to 12 minutes. Let cool on a wire rack.
For pie filling, in a saucepan over medium-low heat, stir 1/4 cup heavy cream, chocolate, and marshmallows until smooth, about 5 minutes. Stir constantly. Remove from heat and let cool for 15 minutes.
Whip 1 cup cream until soft peaks form. Add sifted cocoa; beat a few seconds longer until cocoa is incorporated and stiff peaks form. Stir a third of whipped cream into cooled chocolate mixture; gently fold chocolate mixture into whipped cream. Spoon or pipe the mixture into prepared pie shell.
Whip remaining heavy cream with sugar until soft peaks form. Pipe onto chilled pie. Serve.
Garnish with chocolate drizzle.
Chill until set, about 2 hours.
Chocolate Drizzle
In a small saucepan on the stovetop, gently heat the cream and chocolate until melted.
Let cool a little then put the melted white drizzle into a piper or a small plastic bag and cut a small corner off the bag , then squeeze the white drizzle onto the brownie.