Chocolate Strawberry Cake Recipe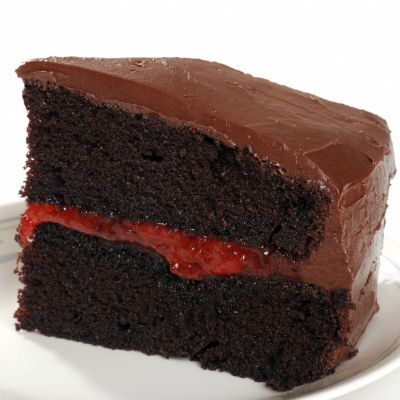 This chocolate strawberry cake has 2 cake layers and a gorgeous strawberry puree in the center for the hint of berry goodness.
Ingredients
Cake
2 cups all-purpose flour
2 teaspoons baking powder
2 teaspoons baking soda
1 teaspoon salt
2 cups sugar
2 cups water
4 oz unsweetened chocolate, grated or chopped
6 Tablespoons unsalted butter, cubed
1 teaspoon pure vanilla extract
2 eggs, lightly beaten
Chocolate Frosting
1 1/3 cups heavy cream
1 cups sugar
6 oz unsweetened chocolate, grated or chopped
1/2 cup (or 4 oz) plus 2 Tablespoons unsalted butter, cubed
1-1/2 tsp vanilla extract
Pinch of kosher salt
Strawberry Filling
2 1/2 cups strawberries, fresh or frozen, washed and peeled
1/4 cup granulated sugar
1 Tablespoon corn starch
Directions
Strawberry Filling
If berries are frozen, thaw them out and puree in a blender.
Strain the puree through a fine screen to remove the seeds.
Heat puree, sugar, and cornstarch to a boil, stirring constantly until the mixture thickens.
Cool completely.
Cake
Preheat the oven to 350°F.
Grease two 8 1/2 inch cake pans with butter, and lightly dust with flour. Shake to coat.
Line with parchment paper, add a little more butter and set aside.
In a large bowl sift in flour, baking powder, baking soda and salt and set aside.
In a medium saucepan, mix the sugar and water and bring to a boil to dissolve sugar.
Pour mixture into a large bowl and add the chopped chocolate and butter. Let sit stirring occasionally until the chocolate has melted.
Once chocolate has melted, beat for about 1 minute with electric mixer.
Mix in vanilla and stir with a spoon.
Let mixture cool for 5-10 minutes.
In a small bowl beat the eggs.
Add eggs to chocolate mixture and beat on medium until combined.
Add the dry ingredients and beat until smooth.
Pour batter evenly into cake pans and bake for 25 minutes or until a toothpick comes out clean with poked in the center.
When cakes are done, let cool in their pans for 25 minutes and then flip pans to cool release them and cool completely.
Frosting
In a medium saucepan, add sugar and cream and boil over medium - high heat, just until it boils.
Lower heat to a simmer and stir once in a while for about 5 minutes.
In the meanwhile, add chopped chocolate, butter and vanilla to a heatproof bowl.
Pour hot cream over chocolate mixture and let stand, stirring once in a while until melted.
Add about 1 inch of ice water to a large bowl.
Place the melted chocolate bowl inside the ice water, but not so that the water come overs into the chocolate.
Now mix the chocolate on medium speed until it is thick and shiny. This will take about 5 minutes.
Set in fridge for 15 minutes before using to frost the cake.
Assembly
Place 1 cake layer so the flat side is facing up, and add the layer of strawberry puree. Top with 2nd chocolate cake layer.
Frost sides and top of cake evenly and smoothly with frosting.