Chocolate Strudel Recipe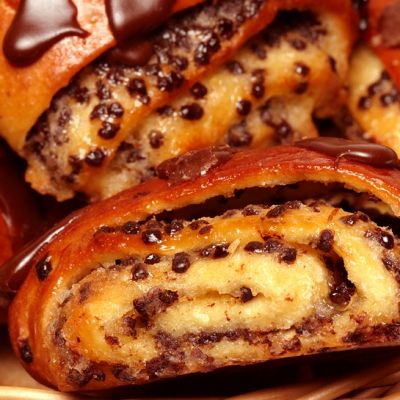 This recipe for chocolate strudel is the perfect combination of flaky puff pastry and sweet fillings.
Ingredients
1/2 package Puff Pastry Sheets, thawed
* Note - our package is 490 grams, and comes in 2 sheets, and we used 1 sheet, or 245 grams)
1 egg
1 Tablespoon water
5 ounces dark chocolate, chopped
1 Tablespoon butter
Directions
Preheat oven to 375 degrees F.
Beat the egg and water in a small bowl with a fork and set aside to brush on pastry before baking.
In the top of a double boiler melt the grated chocolate and butter over low heat, and set aside.
Sprinkle some flour onto a clean surface.
Unfold the pastry sheet onto surface.
Roll the pastry sheet into a 16x12-inch rectangle.
Spread 3/4 of the chocolate mixture on the pastry to within 1 1/2 inches of the edge. (The remaining chocolate will be drizzled on top later)
Starting at a short side, roll up like a jelly roll.
Place seam-side down onto a baking sheet.
Tuck the ends under to seal. Brush with the egg mixture.
Bake for 35 minutes or until the pastry is golden brown.
Let the strudel cool on the baking sheet on a wire rack for 30 minutes.
Drizzle with melted chocolate.