Chocolate Stuffed Caramel Glazed Eclairs Recipe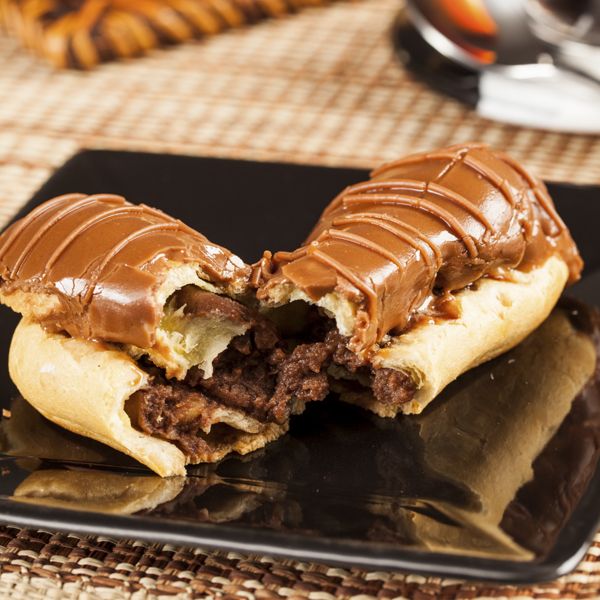 A Sweet pastry recipe for chocolate stuffed caramel glazed eclairs.
Ingredients
Pastry
1 cup water
1/2 cup butter
1 cup all purpose flour
4 eggs
Filling
6 Tablespoons all purpose flour
1/4 cup cocoa powder
3/4 cup granulated sugar
1/2 teaspoon salt
3 cups milk
3 eggs, beaten
2 teaspoons vanilla
Glaze
1/4 cup butter
1/2 cup brown sugar
1/8 cup milk
2 teaspoons vanilla extract
3 cups confectioners sugar
Directions
Preheat the oven to 400 degrees F.
Pastry
In a medium pot, heat water and butter to a low boil.
Stir in flour until mixture is smooth and forms a ball.
Remove from heat and let cool.
Beat in 4 eggs, 1 at a time. Place dough into a pastry bag.
On a greased cookie sheet, pipe out dough in thick lines that form eclairs.
Bake for 30 minutes or until light brown. Set aside to cool.
Filling
In a medium saucepan, prepare filling by whisking together the flour, cocoa powder, sugar and salt.
Whisk in milk and cook over low heat, stirring often, until thickened.
Slowly mix in 3 beaten eggs and continue to cook 1 minute.
Remove from heat, cool and add vanilla.
With a serrated knife, slice cooled pastries lengthwise, but not all the way through.
Pipe custard mixture into the center.
Glaze
In saucepan, melt butter over low heat until it starts to brown, about 3 minutes.
When butter is golden brown, mix in brown sugar.
Bring this mixture to a boil, stirring frequently. stir for 1 minute until thickened.
Remove from heat and add milk. Beat with wire whisk until smooth.
Add vanilla and beat again. Then add confectioners sugar to desired consistency