Christmas Cupcakes Recipe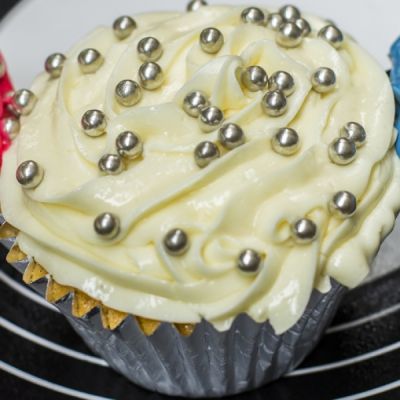 An easy recipe for vanilla cupcakes with buttercream frosting colored for any holiday.
Ingredients
Cupcakes
2 cups sifted cake-and-pastry flour
1 cup granulated sugar
2 teaspoons baking powder
½ teaspoon salt
½ cup butter, softened
½ cup milk
2 eggs
1 teaspoon vanilla
Vanilla Buttercream Icing
1 cup butter, softened
5 cups sifted icing sugar
½ cup whipping cream
½ teaspoon vanilla
red and green food color(or any desired color)
silver balls candy decoration
Directions
Preheat oven to 375 degrees F. Line 12 muffin cups.
In large bowl, whisk together flour, sugar, baking powder and salt. Using electric mixer on low speed, mix in butter, milk, eggs and vanilla; beat on high speed until smooth, about 2 minutes.
Fill each muffin cup about 3/4 full.
Bake about 18 minutes, until tester comes out clean. Transfer to rack; let cool completely.
Vanilla Buttercream Icing In large bowl, beat butter until light and fluffy. Alternately beat in sugar and cream, making 2 additions of sugar. Beat in vanilla. Divide into as many bowls as colors you want. add food coloring to make your colours stiring until desired color is achieved.
Sprinkle silver balls over top.