Chunky Beef Stew Recipe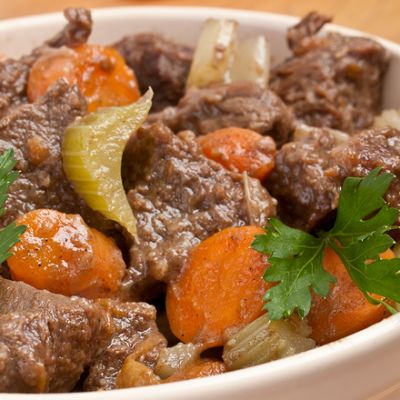 This chunky beef stew recipe has some very tasty ingredients, one of them peanut butter. A really interesting mix of flavors and worth of a try!
Ingredients
2 pounds beef, cut into 1 inch cubes
1/2 cup flour
5 Tablespoons olive oil, divided
1/2 teaspoon nutmeg
1 Tablespoon chili powder
4 medium onions, sliced
1 teaspoon minced, garlic
5-6 cups water
1/2 teaspoon pepper, or to taste
3/4 cup tomato sauce
2 carrots, peeled and sliced
2 celery sticks, sliced
1/2 cup peanut butter
1/4 cup parsley, chopped, for garnish
Directions
Dredge beef cubes by rolling them through the flour unit they are evenly coated.
Over medium heat, heat 3 tablespoons of the olive oil, in a large heavy sauce pan or dutch oven.
Working in batches if necessary, brown the beef cubes in the hot oil.
Sprinkle the nutmeg and chili powder over the beef while it is browning.
Add the onion, garlic, water, pepper, and tomato sauce once the beef has browned. Mix until combined.
Add the chopped carrots and celery, stir to combine.
Cover and simmer for about 1 to 1 1/2 hours, until both meat and vegetables are tender.
Before serving, heat the remaining 2 tablespoons of olive oil and the peanut butter in a small pot over medium heat.
Stir peanut butter mixture into beef stew, and gently mix until combined.
Continue to let the stew simmer for another 15 minutes.
Garnish with chopped parsley before serving.
Serve with rice or dinner rolls.