Citrus Cheesecake Recipe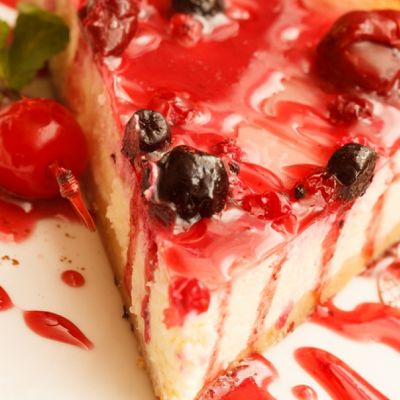 This citrus cheesecake recipe has a creamy tangy flavour and is topped with a fruit glaze.
Ingredients
Crust
1 1/2 cups graham cracker crumbs
1/2 cup butter, melted
Filling
3 cups cream cheese, at room temperature
1 cup granulated sugar
3 teaspoons vanilla
4 Tablespoons fresh lemon juice
2 Tablespoons grated lemon zest
4 eggs
Fruit Glaze
1 cup granulated sugar
2 Tablespoons cornstarch
1/4 cup fresh lemon juice
1/4 cup fresh lime juice
1/4 cup fresh orange juice
1/4 cup water
1/4 cup cherries
1/4 cup blueberries
1/4 cup cranberries
Directions
CRUST
Preheat oven to 350 degrees F.
Combine crumbs and butter.
Press onto bottom of 9-inch pie plate
FILLING
In large bowl, beat together cream cheese, sugar and vanilla.
Blend in lemon juice, zest and eggs.
Pour into crust and bake for 50 minutes.
Cool for at least 2 hours.
GLAZE
In a small saucepan over medium high heat, mix together sugar and cornstarch.
Whisk in lemon juice, lime juice, orange juice, water and berries.
Bring mixture to a boil, stirring constantly.
Remove from heat and leave to cool for 5 minutes.
Pour glaze over cake and serve.