Club Sandwich Recipe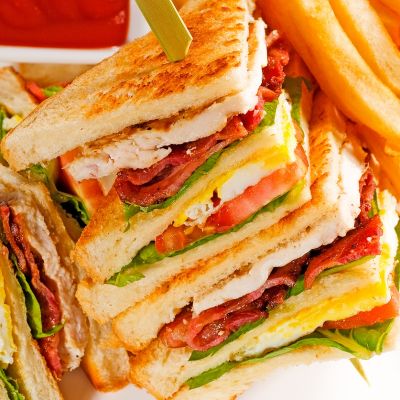 This club sandwich recipe is pretty hearty and makes a good lunch choice for someone with a good appetite.
Ingredients
1/4 cup mayonnaise
3 slices sandwich bread, toasted
1 large romaine lettuce leaf
4 thick slices chicken breasts
1/2 tomato, thinly sliced
4 slices bacon, cooked
1 slice cheese
1 fried egg, over-medium
Directions
To make the sandwich, spread one side of each piece of toast with the mayonnaise.
Assembly
On the bottom slice of toast, add half the romaine lettuce, then two slices of chicken breast,then half the tomato, then half the bacon, then one slice of the Swiss cheese.
Top with the second slice of toast, mayonnaise side down. Spread the top of the middle slice of bread with more mayonnaise.
Top with remaining lettuce, then the remaining sliced chicken breast, then more tomato, the other slice of cheese, the remaining bacon, and the fried egg.
Top with the third slice of bread.
Slice diagonally into quarters, holding each quarter together with a toothpick.