Cocoa Pumpkin Muffins Recipe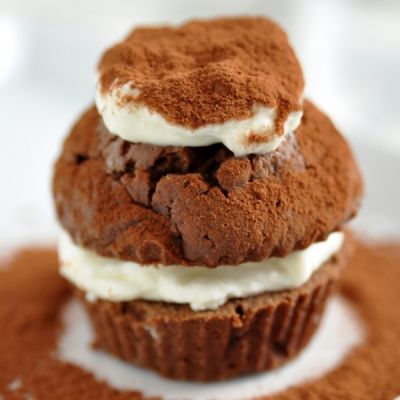 A delicious dessert muffins with hints of spice and a creamy filling.
Ingredients
2/3 cup butter, room temp
3/4 cup dark brown sugar, firmly packed
1/3 cup molasses
1 egg, beaten, room temp
1 cup cooked pumpkin puree
1 3/4 cups flour
1 tsp cocoa powder
1/4 tsp salt
1 tsp baking soda
1 tsp cinnamon
1 tsp grated nutmeg
Cream Cheese Filling:
4 oz cream cheese at room temperature
2 tbsp powdered sugar
1 tsp pure vanilla extract
1/4 cup heavy whipping cream
1/4 cup cocoa powder
1 tsp cinnamon
Directions
Preheat oven to 400F.
Grease 14 muffin cups or use paper muffin liners.
Cream butter, sugar and molasses until light and fluffy. An electric mixer is best for this.
Add egg and pumpkin to mixture and blend well.
In a large bowl, sift together flour, salt, cocoa, baking soda, cinnamon and nutmeg.
Fold into wet ingredients, but be careful not to overmix.
Spoon batter into muffins holes so they are 3/4 full.
Bake for 12-15 minutes until the tops spring back when you press them gently.
Beat the cheese, sugar and vanilla until smooth and fluffy. In a separate bowl, beat the heavy cream to nearly stiff peaks, then add the whipped cream into the cheese mixture and quickly and briefly beat to combine. Do not over beat.
Once muffins have cooled, slice them in half and spread a tsp of frosting in center. Replace the top halves and garnish with more frosting to serve.
To garnish, mix together cocoa powder and cinnamon, and sprinkle lightly or heavily over frosting.