Coconut Cupcakes Recipe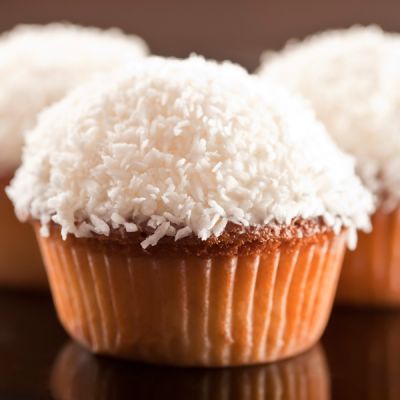 This coconut cupcakes recipe uses coconut milk in the cupcake batter, plus shredded coconut to cap the cream cheese frosting.
Ingredients
Coconut Milk Cupcakes
1/2 cup unsalted butter, room temperature
3/4 cups granulated sugar
2 eggs, room temperature
1/2 cup coconut milk
1/2 teaspoon vanilla extract
1 1/3 cups flour
1/2 teaspoon kosher salt
1/2 teaspoon baking powder
1/3 -1/2 cup sweetened flaked coconut
Makes - 12
Coconut Cream Cheese Frosting
1/2 cup butter, room temperature
8 ounces (1 package) Cream cheese, room temperature
1/2-1 cup confectioners sugar
1/4 cup sweetened flaked coconut
Directions
CUPCAKES:
Preheat oven to 350F
Line muffin tin with muffin liners
Beat sugar and butter until light and fluffy. Add eggs one at a time to creamed butter and beat in until smooth. Add coconut milk and vanilla and mix until its incorporated
In a separate bowl sift together flour, salt, and baking powder. then re-sift flour mixture into wet mixture, and mix until smooth. Add in coconut and fold in till its evenly incorporated in batter.
Scoop batter in prepared muffin tin, and fill 3/4 of the way. Bake for 18 to 22 minutes, or until an inserted toothpick comes out clean. Set aside to cool, when cool enough to touch, take cupcakes out and put on a wire rack to cool completely
FROSTING:
Beat butter and cream cheese together till smooth. Add in confectioners sugar and mix slowly until well incorporated. Spread frosting onto cupcakes. Put coconut onto a plate and spread it around till flat, roll the top of frosted cupcake in coconut.