Coconut Shortbread Sandwich Cookies Recipe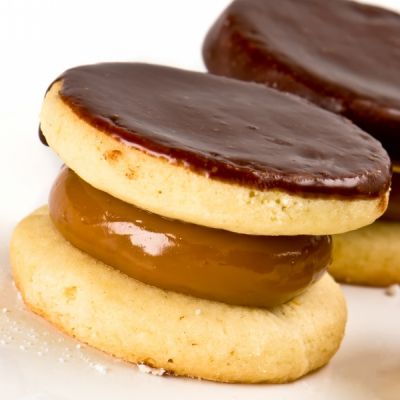 A Coconut Shortbread Cookie With a Caramel Filling and Chocolate Glaze
Ingredients
Cookies
1 cup finely shredded unsweetened coconut, toasted
1 cup sugar
1 tsp. coconut emulsion or extract
1 tsp vanilla extract
3 cups all-purpose flour (regular or gluten free)
1/4 tsp sea salt
3 sticks (1 1/2) cup cold butter, cut into pieces
Caramel Filling
2 large egg yolks
6 tablespoons (3/4 stick) unsalted butter, room temperature
1/4 cup whipping cream
2 cups (packed) powdered sugar
6 tablespoons water
Chocolate Topping
2 cups of dark chocolate chips for melting
Directions
Caramel Filling - Make the Day Ahead
Place yolks in medium bowl. Bring 4 tablespoons butter and cream to simmer in heavy small saucepan. Gradually whisk hot cream mixture into yolks.
Anchor bowl with yolk mixture by placing bowl on wet kitchen towel; set aside.
Stir sugar and 6 tablespoons water in heavy medium saucepan over low heat until sugar is dissolved. Increase heat and boil without stirring until syrup is deep amber color, occasionally brushing down sides of pan with wet pastry brush and swirling pan so caramel will color evenly, about 10 minutes. Slowly whisk hot caramel into yolk mixture, then whisk until smooth. Transfer caramel mixture to small bowl; let stand until no longer warm to touch (caramel will become too thick if it cools too long), about 1 hour. Whisk in remaining butter. Cover and chill until thick and cold, at least 1 day.
Cookies
In a large bowl combine toasted coconut, flour, sugar and sea salt. Whisk to combine, and slowly pour into a bowl of a food processor. Pulse a few times.
Add in the butter one piece at a time while the food processor is running until all is combined. Add in the coconut and vanilla extracts and pulse again. Scrape down the sides when needed and keep pulsing a few seconds at a time until the dough is uniform in texture and the butter is fully incorporated.
Transfer back to a bowl and cover with plastic wrap. Chill in refrigerator one hour or overnight.
Preheat oven to 325 degrees F.
Prepare cookie sheets with parchment paper or silicon bake mats.
On a lightly floured surface or between two pieces of parchment paper and roll out a portion of the dough, keeping the rest chilled, to about ľ'Ä≥ thickness. Cut with round 1 1/2 inch circlecookie cutters and carefully place on prepared cookie sheets at least 1 inch apart.
Chill for 10 minutes in refrigerator then bake for 15 minutes, or just until bottoms start to brown, donít over bake.
Transfer cookies to a wire rack; let cool. Repeat with the remaining dough portion until all are baked. Cool completely before filling and coating with chocolate.
Dark Chocolate For Cookies
Melt the chocolate in a bowl over gently boiling water. Take it off the heat, wait a few minutes to allow it to thicken a bit and dip one side of the cookie into the melted chocolate. Allow the excess chocolate to drip back into the bowl and place the cookie, chocolate face up, on a plate until the chocolate dries up completely. With this process the chocolate will have a mat and softer finish. Do all the cookies.
Assembly
Put a spoonful of caramel sauce between two cookies and squeeze them lightly together.