Coffee And Walnut Cake Recipe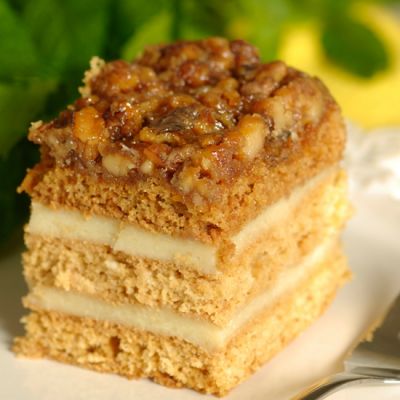 This coffee and walnut cake is baked in one pan then sliced into 3 thin layers.
Ingredients
Maple Walnut Cake
6 ounces butter, at room temperature
6 ounces soft brown sugar
8 ounces all purpose flour
3 large eggs, beaten
1 teaspoon baking powder
3 ounces walnuts, finely chopped
2 Tablespoons milk
2 Tablespoons maple syrup
Maple Fudge Frosting and Filling
3 ounces butter
4 ounces soft brown sugar
2 Tablespoons cold strong coffee
1 Tablespoon maple syrup
1 Tablespoon milk
1 -2 Tablespoon pure maple extract, to taste
8 ounces icing sugar
Maple Walnut Topping
1 cup walnuts, chopped
1/4 cup maple syrup
1/4 cup cream
1/4 cup water
Directions
Cake
Preheat oven to 350 degrees F.
You will need one 9 x 13 inch cake pan; greased and lined with parchment paper.
In a large mixing bowl,using an electric mixer, beat the butter and sugar together for 7 minutes until light, fluffy and pale golden brown.
In a separate bowl,add the baking powder to the flour.
In a large measuring cup,use an electric mixer to beat the eggs.
Add in the milk and maple syrup and mix together.
Into the butter sugar mixture, gently fold in a large spoon of flour, followed by a spoon of egg mixture - mix gently but thoroughly between each addition of flour and egg mixture.
Continue to add, fold and mix until the flour and the egg mixture is finished.
If the mixture is a little stiff, add some more milk.
Add the chopped walnuts and gently mix through the cake mixture evenly. You should have a fairly stiff consistency that drops easily.
Put the cake in to the prepared cake tins, smoothing slightly on top, with a slight indent in the middle, then bake for about 25-35 minutes. Check at 25 minutes. Different ovens bake at different speeds.
Check with a toothpick inserted in the middle. If done it will come out clean.
Remove and place onto cooling rack.
Allow it to cook in the tins for 5 minutes, before carefully loosening the edges, flipping the pan onto a clean counter or cutting board.
Let the cake cool then slice into 3 thin layers of cake.
Frosting
While the cakes are cooling, make the fudge frosting /filling.
Place all of the ingredients, except the icing sugar, into a saucepan and gently them all together until the sugar is dissolved.
Allow to cool slightly and then add the icing sugar, and use an electric mixer to beat it to a smooth and glossy finish.
Topping
Put the walnut pieces into a small mixing bowl.
In a small saucepan bring cream, syrup and water to a simmer.
Turn off heat immediately, and pour mixture over the walnut pieces and stir to combine. Set aside.
Assembly
Place one of the cake sections onto your serving dish.
Spread half of the frosting/filling on top of the cake.
Place the other cake on top and spread the remaining frosting.
Place the final layer of cake with maple walnut topping.
Chill for 30 minutes before serving.