Coffee Walnut Cake Recipe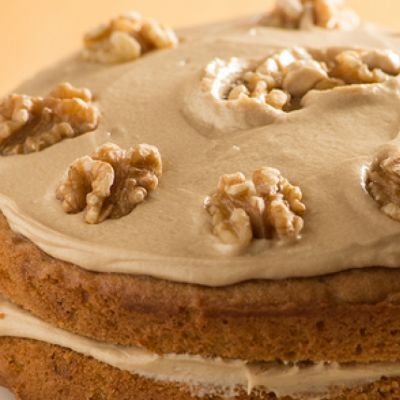 This coffee walnut cake recipe is perfect for your coffee break. This recipe is for a two layer cake with a maple buttercream frosting made with pure maple syrup. Delicious.
Ingredients
COFFEE WALNUT CAKE
2 cups all purpose flour
1 teaspoon baking powder
1 teaspoon baking soda
1/2 teaspoon salt
1 cup butter, at room temperature
1 cup granulated sugar
2 eggs
1 teaspoon pure vanilla extract
1 cup sour cream
1 cup walnuts,finely chopped
MAPLE BUTTERCREAM FROSTING
1 cup (2 sticks) butter, at room temperature
2 cups confectioner's sugar
1/2 cup pure maple syrup
1 teaspoon vanilla extract
1/4 teaspoon salt
GARNISH
walnut halves
Directions
COFFEE WALNUT CAKE
Preheat oven to 350 degrees F.
Grease two 8x8 round cake pans with butter.
Using a mixing bowl, stir together the flour, baking powder, baking soda and salt.
In a large mixing bowl, using an electric mixer, beat the butter until creamy. Add the sugar and beat in until light and fluffy.
Beat in the eggs and the vanilla.
Using an electric mixer, alternate beating in the sour cream and the flour mixture into the butter mixer until well combined.
Divide the batter evenly into the prepared cake pans
Bake for 35-40 minutes or until a toothpick inserted in the middle comes out clean.
Remove and place the cake pans onto cooling racks.
After 5 minutes remove the cakes from the pans onto the cooling rack and flip them right side up. Let cool completely before frosting.
MAPLE BUTTERCREAM FROSTING
Place the butter in a mixing bowl and using an electric mixer, beat for three minutes, until creamy and light in color.
Beat in the confectioners' sugar on medium to high speed until well combined.
Add the maple syrup, vanilla extract and salt and beat in until creamy smooth.
If the frosting is too runny, add a little more confectioners' sugar.
ASSEMBLY
Place one layer of cake on the cake plate and put half of the frosting.
Place the second layer on top and frost the top then garnish with walnut halves.