Confetti Brownies Recipe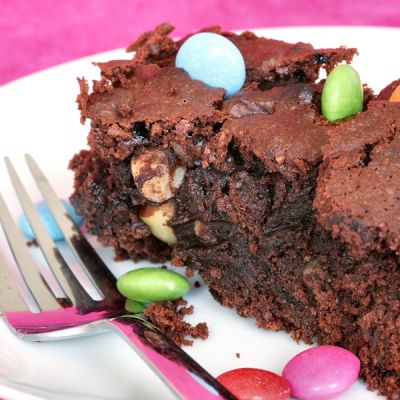 This confetti brownie recipe is one that the kids will love. Use whatever flavor of M&M that you wish for this tasty treat.
Ingredients
3/4 cup butter, at room temperature
1 cup granulated sugar
1 cup light brown sugar
3 large eggs
1 teaspoon vanilla
2 1/2 cups all purpose flour, divided
2 1/2 teaspoons baking powder
1/2 teaspoon salt
1/3 cup unsweetened cocoa powder
1 Tablespoon butter, melted
1 cup M&M's
Serves 8 to 12
Directions
Preheat oven to 350F
Grease a 13 x 9 baking pan with oil.
Cream together butter and both sugars until light and fluffy. Add in eggs one at a time and beat after each addition. Mix in vanilla.
In a separate bowl whisk together flour, baking powder, salt and cocoa. Add to sugar mixture and mix until well incorporated. Stir in melted butter. Stir in 3/4 cup of M&M's.
Pour into prepared baking tray and sprinkle the top with the rest of M&M's. Bake for 25 - 30 minutes, or until an inserted toothpick comes out clean. Set to cool. Serve