Cookies And Cream Brownies Recipe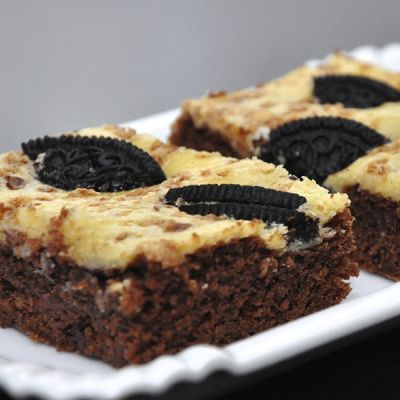 This cookies and cream brownies recipe makes yet another easy and tasty brownie.
Ingredients
Cream Cheese Layer
1 (8 ounce) packages cream cheese, at room temperature
1/4 cup brown sugar
1 egg
1 teaspoon vanilla extract
Brownie Layer
1/2 cup butter, melted
1/2 cup granulated sugar
1/2 cup packed brown sugar
1/2 cup baking cocoa
2 eggs
1/2 cup all purpose flour
1 teaspoon baking powder
1 teaspoon vanilla extract
12 cream-filled chocolate sandwich cookies, crushed
6 cream-filled chocolate sandwich cookies cut into quarters
Directions
Preheat oven to 350 degrees F.
Grease an 11 x 7 inch baking pan with butter.
Cream Cheese Layer
In a small mixing bowl, use an electric mixer to beat the cream cheese, sugar, egg and vanilla until a creamy smooth consistency.
Brownie Layer
Use a large mixing bowl and blend butter, sugars and cocoa together.
Add the eggs, beating in one at a time.
Stir in the vanilla and the cookie crumbs.
*To make the cookie crumbs, you can either put the cookies into a blender and whirl to crush, or you can put them into a sealed plastic bag and crush with a rolling pin. Leave the white centers in the crushed mixture as they add flavor to the brownie.
Pour the brownie batter into the prepared pan.
Spoon the cream cheese mixture on top of the brownie mixture.
Place into the preheated oven and bake for 25-30 minutes or until a toothpick inserted in the center comes out moist crumbs.
Remove to cooling rack. While the cake is still hot and soft place the cut cookies around the top of the cake for garnish.