Cookies And Cream Cheese Mini Bites Recipe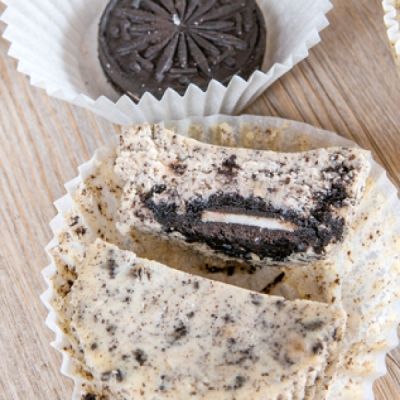 A Sweet and simple recipe for cookies and cream cheese mini bites. These are a delicious treat for any party.
Ingredients
Makes 48 mini bites
48 mini Oreo cookies, for the crusts
Filling
2 cups heavy cream
4 cups cream cheese, at room temperature
2/3 cup granulated sugar
1/8 teaspoon salt
1 teaspoon pure vanilla extract
1 Tablespoon lemon juice
3/4 cup Oreo Cookies crumbs
Directions
Cookies & Cream Cheese Mini Bites
Line 48 mini muffin tins with paper liners.
Place 1 mini Oreo cookie in the bottom of each liner.
Chill a mixing glass or metal bowl in the freezer for 15 minutes.
Pour the heavy cream into the chilled bowl and beat with an electric mixer on medium speed until stiff peaks form. Set aside.
In another mixing bowl, combine the cream cheese, sugar, salt, vanilla, lemon juice in a bowl and beat with a electric mixer until smooth.
Make the cookie crumbs either pulsing the cookies in a food processor or placing the cookies into a plastic bag and using a rolling pin to make the crumbs.
Stir the cookie crumbs into the cream cheese mixture.
Gently fold the whipped cream into the cream cheese mixture .
Spoon the filling on top of the cookies in the line tins.
Chill for 2 hours before eating.