Cookies And Cream Cheesecake Recipe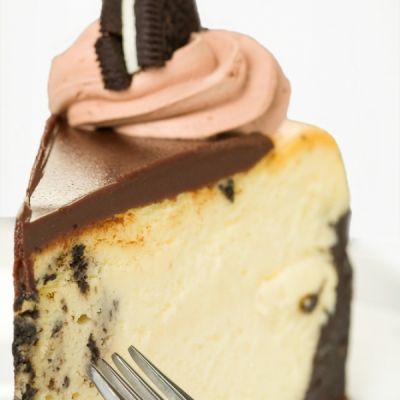 A favorite cookies and cream cheesecake recipe that is easy to make.
Ingredients
24 crushed créme-filled chocolate cookies (2 cups) - something like an Oreo
6 tablespoons butter, softened
1 envelope unflavored gelatine
1/4 cup cold water
8 ounces cream cheese, softened
1/2 cup granulated sugar
3/4 cup milk
1 cup whipping cream, whipped
10 coarsely chopped créme-filled chocolate cookies (1 1/4 cups)
1 tbsp cocoa powder.
Chocolate Ganache
3/4 cup semisweet chocolate chips
1/2 cup heavy cream
1/2 teaspoon instant espresso powder, optional
Directions
Combine cookie crumbs and butter; press onto bottom and sides of 9-inch springform pan.
Soften gelatin in water; stir over low heat until dissolved.
Combine cream cheese and sugar, mixing at medium speed of electric mixer until well blended.
Gradually add gelatine and milk, mixing until blended.
Chill until mixture is thickened but not set.
Fold in whipped cream.
Reserve 1 1/2 cups cream cheese mixture, and use a hand held mixture to blend in 1 tbsp of cocoa powder until blended.
Pour filling over crust.
Let chill in fridge, while you prepare chocolate ganache.
Place a heat-proof bowl over a pot of simmering water, and whisk together the chocolate, cream, and espresso powder (if using).
Continue whisking until chocolate is melted and the mixture is thick, about 4 minutes.
Remove from heat and let stand for 5 minutes.
Spread over chilled cheesecake and smooth with a knife or spatula.
Let chill in fridge for 1 hour until ganache sets.
Use a decorating piping gun to create chcolate cream cheese flowers topped with oreos.