Cranberry Cheesecake Recipe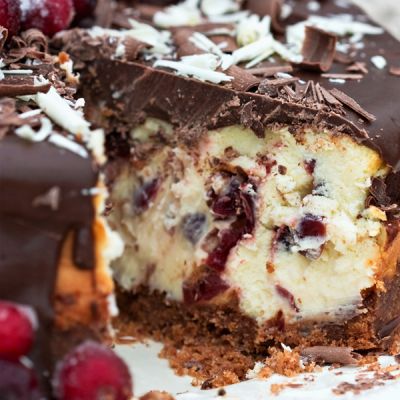 This cranberry cheesecake also has cherries to give you a variety of sweet and tangy bites. This creamy cheesecake covered with chocolate ganache is sure to be talked about.
Ingredients
CRUST
1 1/4 cups chocolate cookie crumbs
1/4 cup unsalted butter, melted
FILLING
3 (8 ounce) packages cream cheese, at room temperature
3/4 cup granulated
3 large eggs
4 ounces white baking chocolate, melted
1/2 cup dried sweetened cranberries, soaked to soften
1/2 cup dehydrated cherries, soaked to soften
1 teaspoon orange zest
1 teaspoon pure vanilla extract
GANACHE
4 ounces dark chocolate
1/2 cup heavy cream
pinch of salt
(Makes just over 1/2 cup of ganache)
*Make double if you want a thick coating
GARNISH
*Optional
White and dark chocolate shavings
Directions
CRUST
Preheat oven to 350 degrees F.
Mix cookie crumbs and melted butter in a bowl, then press onto bottom of 9 inch springform pan.
Chill to set.
FILLING
Melt the chocolate in the top of a double boiler over low heat and set aside.
In a mixing bowl, beat cream cheese on medium speed until fluffy.
Beat in sugar until blended, then beat in eggs until blended.
Stir in the melted white chocolate, soaked and softened cranberries and cherries, zest & vanilla.
Pour into prepared crust.
Bake 45-50 minutes or until center is ALMOST set.
Remove to a cooling rack.
Cool in pan for 30 minutes, then refrigerate.
Run knife around sides of pan to loosen, then chill 4 hours or overnight.
Remove rim, drizzle on the ganache, garnish with chocolate shavings if desired and serve.
Refrigerate leftovers.
GANACHE
Make the ganache when you are ready to serve the cheesecake.
Chop the chocolate into fine pieces and put into a heat proof pot.
In a small pot, bring the heavy cream to a boil over medium to high heat.
Pour the boiling cream over the finely chopped chocolate. Add a pinch of salt.
Leave to sit for 10 minutes and do not stir. Stirring will cool the ganache too quickly and make it grainy.
After 10 minutes, stir with a whisk until the ganache is nice and creamy.
Use a spatula to scrape down the sides to be sure the chocolate is off the bottom of the pot.
The ganache is ready to use.