Cream And Fruit Lattice Pastries Recipe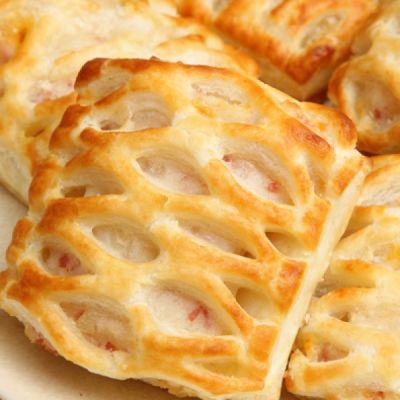 A tasty recipe for homemade Lattice Pastries filled with a cheese and fruit center.
Ingredients
Quick Puff Pastry
10 ounces (2 1/2 sticks) cold unsalted butter
1/2 cup cold tap water
1 teaspoon salt
2 cups unbleached, all-purpose flour (about 9 ounces)
TOOLS: A Lattice Cutter
Cheese and Jam Filling
4 ounces cream cheese, at room temperature
2 1/2 tablespoons sugar
1 extra-large egg yolks, at room temperature
1 tablespoons ricotta cheese
1/2 teaspoon pure vanilla extract
1/8 teaspoon kosher salt
1/2 tablespoon grated lemon zest (1 lemon)
1/4 cup jam of your choice
1 egg beaten with 1 tablespoon water, for egg wash
Directions
Makes 8 pastries
The Pastry
Cut 8 ounces (2 sticks) butter into 1/2 to 1/4-inch dice, place on a plate and refrigerate while preparing remaining ingredients.Measure water and add salt; stir to dissolve and set aside.
Coarsely dice remaining 4 tablespoons (1/2 stick) butter. Place flour in work bowl of food processor fitted with metal blade; add 4 tablespoons butter and pulse until butter is absorbed -- about ten to twelve 1-second pulses.
Add remaining butter and pulse once or twice to distribute. Add water and pulse 3 or 4 times, just until dough forms a rough ball. Do not over-process.
Flour work surface and scrape dough from work bowl. Shape dough into a rough rectangle and place between 2 pieces of plastic wrap. Press dough with rolling pin to flatten, then roll back and forth several times with rolling pin to make a 12 by 18 inch rectangle of dough.
Peel away plastic wrap and invert dough to floured work surface. Peel away second piece of wrap. Fold dough in thirds in the width, folding the top third down and the bottom third up, to make a 6 by 18-inch rectangle, then roll up the dough from one of the 6-inch ends, making sure to roll end under dough. Press the dough into a square, wrap in plastic and refrigerate 1 hour, or until firm.
The Filling
Place the cream cheese and sugar in the bowl of an electric mixer fitted with a paddle attachment and cream them together on low speed until smooth. With the mixer still on low, add the egg yolks, ricotta, vanilla, salt, jam and lemon zest and mix until just combined. Do not over mix.
Divide the filling into 8 portions.
Assembly
Preheat oven to 375 degrees F.
Use will use an ungreasted light colored alminium baking pan.
Take the prepared doug from the refrigerator and roll out the puff pastry to 1/8 inch high, and roughly 12 by 16 inches.
Cut the pastry lengthwise into two 6 by 16 inch rectangles.
Cut each rectangle into 2 pieces, one 4 by 16 inches and one 2 by 16 inches.
Run the lattice cutter along both 2 by 16 inch pieces.
Pull on the long side of each of the lattice cut pieces to open up the holes.
Cut each lattice cut piece into 4 and each of the remaining two rectangles into 4.
This should now give you 8 bottoms and 8 tops for the pastries.
On each bottom spread the divided pastry filling to within a quarter inch of each edge.
Place the tops on and press the edges into the bottoms
Bake pastries on an ungreased baking sheet for about 20 or until the pastry is browned on the edges and the lattice top is beginning to brown.
Place pastries on a cooling rack for 5 minutes.