Cream Pie With Caramel Recipe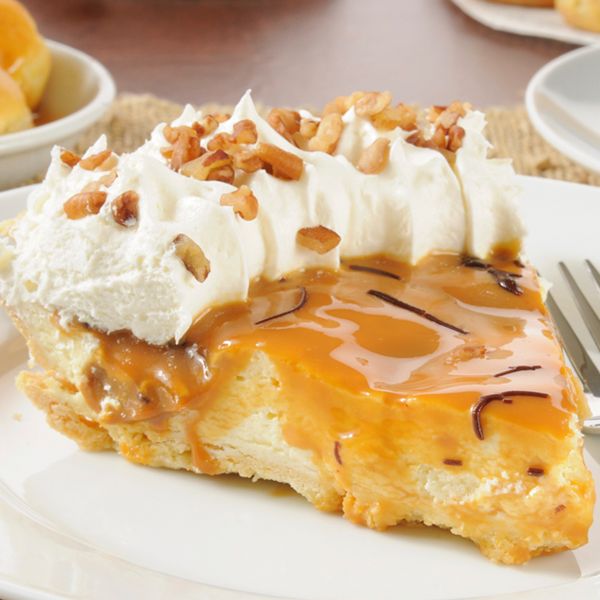 A Yummy cream pie recipe, served topped with caramel sauce and whipped cream.
Ingredients
Pastry
1 1/2 cups all purpose flour
1/4 teaspoon salt
1 teaspoon granulated sugar
1/2 cup cold butter, cut into small pieces
4-5 Tablespoons ice water
Filling
3/4 cup granulated sugar
2 Tablespoons all purpose flour
1/4 teaspoon salt
3 large eggs
1 cup milk
2 Tablespoons butter, melted
2 teaspoons vanilla extract
Caramel Sauce
1 packed cup brown sugar
1/2 cup cream
4 tablespoons butter
1/8 teaspoon salt
1 Tablespoon vanilla extract
Topping
1/2 cup heavy cream, whipped to stiff peaks
1/4 cup walnuts, chopped small
Directions
Pastry
Combine the flour, salt, and sugar in a large bowl and stir.
Using a pastry blender, cut the butter into the dry ingredients until in forms pea-size pieces,
Drizzle in 4 tablespoons of the ice water and mix just until the dough comes together.
Shape the dough into a flat disk, cover in plastic wrap and refrigerate for 30 minutes,
Preheat oven to 375 degrees F.
Roll out pie crust and gently place into 9 inch pie pan.
Filling
In a large bowl, whisk together sugar, flour and salt until well combined.
Add in eggs and mix well.
Whisk in milk, melted butter and vanilla extract.
Pour mixture into pie shell.
Bake for 45-50 minutes, until pie is set.
Allow to cool to room temperature, then refrigerate for at least 2 hours.
Caramel Sauce
Mix the brown sugar, cream, butter and salt in a saucepan over medium-low heat.
Cook while stirring gently for 5 minutes, until it thickens.
Add the vanilla and cook another minute to thicken further.
Turn off the heat, allow to cool and pour over pie and chill until ready to serve.
Topping
Whip cream until stiff peaks form and pipe or spoon onto the outside edges of the pie. Sprinkle on the chopped walnuts.