Crispy Baked Chickenstrips Recipe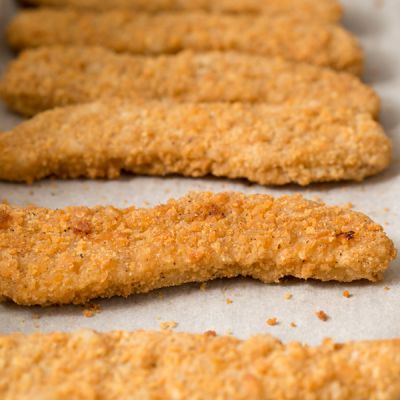 A great crispy breaded chicken strips recipe including 2 good dipping sauce recipes.
Ingredients
Chicken & Coating
4 boneless skinless chicken breasts
1/4 cup all purpose flour
6 Tablespoons butter, melted
2 cups finely crushed corn flakes cereal
Option 1: Sweet Honey Mustard Sauce
1/2 cup real mayonnaise
1 tablespoon honey
2 teaspoons Dijon mustard
1/2 teaspoon yellow mustard
1/2 teaspoon apple cider vinegar
1/4 teaspoon dried tarragon
1/8 salt
1/8 black pepper
Option 2: Smoky BBQ Sauce
1/2 cup ketchup
1 Tablespoon plus 1 teaspoon Worcestershire sauce
2 teaspoons brown sugar
1 teaspoon apple cider vinegar
1/2 teaspoon yellow mustard
1/2 teaspoon Dijon mustard
1/4 teaspoon garlic powder
1/4 teaspoon black pepper
1/4 teaspoon chipotle powder
1/8 salt
Directions
Chicken
Preheat oven to 400˚F.
Wash chicken breasts and cut into 1 inch finger strips.
Place the flour and butter in separate small bowls. Add the crushed cereal to a medium-sized bowl.
Dip the chicken pieces in the flour, then the butter, then the cereal. Place the coated chicken strips on a baking rack on the baking sheet.
Bake 20 minutes, until chicken is no longer pink. In the meanwhile prepare your dipping sauce(s).
Sauce Preparation
In a small bowl, add all ingredients and whisk well to combine, cover with plastic and refrigerate until ready to serve.