Crock Pot Cabbage Rolls Recipe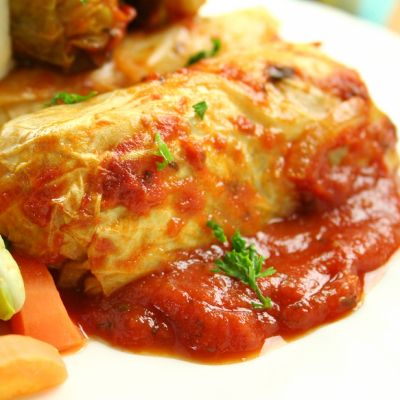 This cabbage roll recipe has you cooking the cabbage rolls in a crock pot. You use cooked rice for the recipe, but the meat and cooking of the cabbage rolls happens as you let them cook on very low heat for several hours. A good meal to start in the morning and have ready and waiting when you are ready to eat dinner.
Ingredients
12 cabbage leaves
1 egg, beaten
1/4 cup tomato sauce
1/4 cup onion, finely chopped
1 teaspoon salt
1/4 teaspoon pepper
1 pound lean ground beef
1 cup cooked rice
1 (8 ounce) cans tomato sauce
1 Tablespoon brown sugar
1 Tablespoon lemon juice
1 teaspoon Worcestershire sauce
3 Tablespoons parsley, freshly chopped
(Serves 6)
Directions
Place cabbage leaves in a large heat proof mixing bowl.
Pour over a large kettle full of boiling water and allow cabbage leaves to soak for about 3 minutes. Drain and set aside.
Combine egg, tomato sauce, onion, salt, pepper, beef and cooked rice in a large mixing bowl.
Working one at a time, lay out a cabbage leaf and place a portion of the meat and rice mixture into the center of the leaf.
Fold in the sides, fold up the bottom and then roll upwards to contain all the filling inside the cabbage leaf.
Carefully place the cabbage roll, seam side down, in a slow-cooking crock pot.
In a medium bowl, combine the tomato sauce, brown sugar, lemon juice and Worcestershire sauce. Mix until well combined.
Pour the tomato sauce mixture over the cabbage rolls.
Cover with a tight fitting lid and allow to slow-cook on low for 7 to 9 hours.
When ready to serve, sprinkle over some fresh chopped parsley.