Crock Pot Rice Pudding With Stewed Apple Pieces Recipe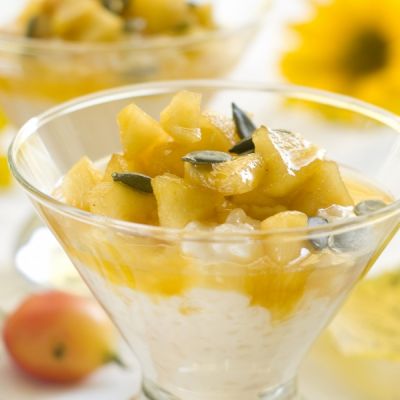 A healthy dessert idea for Crock Pot Rice Pudding...Delicious served with warm stewed apples.
Ingredients
Crock Pot Rice Pudding
4 cups milk
1/2 cup rice
1/4 cup granulated sugar
1 tablespoon butter
1/8 teaspoon salt, optional
1/2 teaspoon vanilla extract
1/4 cup minced apples
1/2 teaspoon cinnamon
Stewed Apples
3 cups,apples peeled and chopped to one inch size (Granny Smith is a tasty choice)
1/4 cup brown sugar
1/8 cup apple juice or apple cider
dash of lemon juice
1/2 teaspoon ground cinnamon
dash of salt
1/2 cup pumpkin seeds
Directions
Put all ingredients except the sugar into crockpot. Stir to blend well. Cover and cook on HIGH for 1 1/2 hours, stirring once after about 1 hour. Or, cook on HIGH for the first 30 minutes, turn to LOW and cook as long as you desire.
Check after the first 2 hours of low cooking and stir. If rice is not absorbing the milk quickly enough, turn the crockpot up to HIGH again. Keep cover on at all times.Serve with stewed apples and pumpkin seeds. Makes about 6 cups.
Stewed Apples
Combine all ingredients in a large, heavy saucepan. Cover and cook over medium-low heat 45 minutes or until apple is tender, stirring occasionally. Let stand 5 minutes.