Crunchy Fried Shrimp Recipe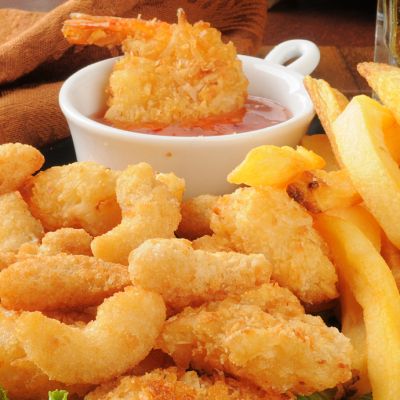 Delicious crunchy fried shrimp that will disappear so quickly!
Ingredients
1 pound raw shrimp, peeled and deveined with the tails attached
1/2 cup all purpose flour
2 eggs lightly beaten
1 and 1/2 cups panko bread crumbs
1/2 teaspoon salt
1/4 teaspoon black pepper
1/4 teaspoon garlic powder
vegetable oil for frying
Directions
Use paper towels to pat the shrimp dry.
Toss the shrimp with salt, black pepper and garlic powder.
Using 3 shallow plates:
In one plate, add 1/2 cup flour.
In another pan add 2 eggs, lightly beaten.
In the third pan add 1 and 1/2 cups panko bread crumbs.
Dip each shrimp in flour, then egg, then panko bread crumbs.
Use your fingers to press the bread crumbs onto each piece of shrimp.
Heat about two inches of vegetable oil in a deep pot to 350 degrees F.
Deep-fry the shrimp in batches, a few at at time.
When they are golden brown, use a slotted spoon to remove them from the pan, and transfer them to a paper towel lined plate.
Continue cooking the shrimp in batches until all shrimp are fried and golden brown.