Crystalized Ginger And Pear Muffins Recipe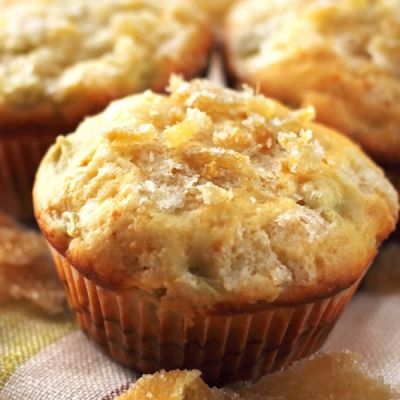 This recipe for Crystalized Ginger and Pear Muffins is a tasty addition to your muffin recipe box.
Ingredients
2 cups all purpose flour
1/2 cup granulated sugar
1 Tablespoon baking powder
1 teaspoon ground ginger
1/2 teaspoon salt
1 cup buttermilk
1/3 cup vegetable oil
2 eggs
1 1/2 cups pears, peeled, cored, and cut into small pieces (about 2 pears)
3/4 cup crystalized ginger, cut into small pieces
Makes 12
Directions
Preheat oven to 400°F.
Line a 12 muffin tin with paper liners.
In a large bowl, combine flour, sugar, baking powder, ground ginger, and salt.
In another bowl, stir to combine buttermilk, oil, and eggs.
Add the wet ingredients to the dry and stir until just combined.
Fold in the dices pears and crystalized ginger until just combined. Reserve 1/4 cup of the crystalized ginger to sprinkle on the tops.
Fill the muffin tins 3/4 the way full with the batter. Divide and sprinkle the reserved crystalized ginger onto the tops.
Bake for 20 to 25 minutes or until done.
Remove the muffins from baking pan and transfer to a cooling rack.