Custard Filled Banana Muffins Recipe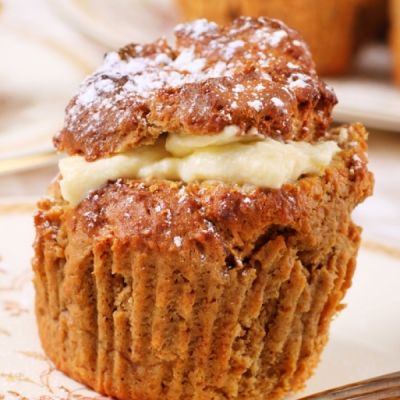 A Delicious recipe for custard filled muffins. Great enjoyed with a hot coffee.
Ingredients
Muffins
1 cup whole wheat flour
3/4 cup all-purpose flour
1/4 cup brown sugar
1 Tablespoon baking powder
1/2 teaspoon salt
2 eggs (beaten)
3/4 cup milk
1/4 melted butter
3 medium bananas, mashed
Custard
2 cups milk
1/4 cup white sugar
2 egg yolks
1 egg
1/4 cup cornstarch
1/3 cup white sugar
2 tablespoons butter
1 teaspoon vanilla extract
Directions
For the custard: In a heavy saucepan over medium heat, stir together and bring to a boil the milk and 1/4 cup of sugar. In a new bowl whisk together the egg yolks and egg. Stir together the rest of the sugar and cornstarch; then stir them into the egg. Spoon out a bit of the hot mixture onto the eggs and stir them so they do not cook. Return the mixture to the saucepan, and slowly bring to a boil, stirring constantly so the eggs. When the mixture comes to a boil and thickens, remove from the heat. Stir in the butter and vanilla, mixing until the butter is completely blended in. Pour into a heat-proof container and place a piece of plastic wrap directly on the surface to prevent a skin from forming. Refrigerate until chilled before using.
Preheat oven to 425 degrees. Grease or line 12 muffin tins
Mix all dry ingredients together in a large bowl.
Mix eggs, milk and melted butter in another bowl. Mix liquid ingredients into dry ingredients. Stir just to blend. Pour batter into prepared muffin tins.
Bake 25-30 minutes. let cool slightly then tear off tops. place tops back until cooled then fill with cold custard before serving.