Dark Chocolate Cake Recipe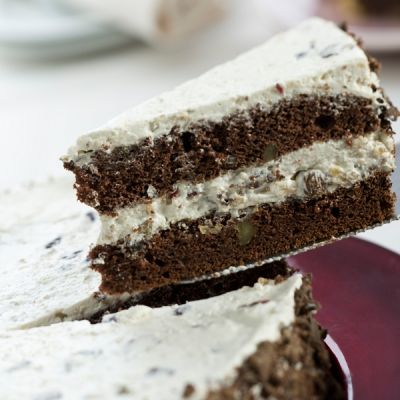 This dark chocolate cake recipe also has walnuts in both the cake and the icing.
Ingredients
Dark Chocolate Cake With Walnuts
6 ounces bittersweet chocolate, chopped
2 cups all purpose flour
4 Tablespoons unsweetened cocoa powder
1 teaspoon baking soda
1 1/2 cup ground walnuts (measure after grinding for accurate amount)
1 cup (1 stick) unsalted butter, room temperature
1 cup packed golden brown sugar
1 cup sugar
2 teaspoons vanilla extract
4 large eggs
1 cup buttermilk
Walnut Butter Icing
2 1/4 cups confectioners' sugar
8 Tablespoons (1 stick) butter, at room temperature
1/2 cup finely chopped walnuts
1/2 teaspoon pure vanilla extract
1 Tablespoon milk
Directions
Cake
Preheat oven to 350 degrees F.
Butter and lightly flour two 9-inch spring form pans.
Melt the chocolate in the top of a double boiler or using your preferred method.
Mix the flour, cocoa powder, and baking soda into a small bowl along with the ground walnuts.
In a mixing large bowl, cream the butter using electric mixer.
Add both sugars and beat until fluffy.
Beat in eggs, one at a time. Beat in vanilla, then the melted chocolate.
Add dry ingredients to the butter mixture, alternately with buttermilk in 2 additions each, beating just until blended after each addition.
Divide the cake into the two pans and place into the preheated oven.
Bake for 30-35 minutes or until a toothpick inserted into center comes out with a few moist crumbs attached.
Place pans onto cooling racks
After 15 minutes remove the springform rings and turn the cakes out onto the racks.
Let cool completely before icing.
Walnut Butter Icing
Stir the walnuts into the milk in a mixing bowl.
In another bowl, sift the confectioners' sugar. Beat in the butter with an electric mixer until combined.
Add in the walnut milk mixture and the vanilla and beat until the icing is smooth and spreading consistency.
*Note with butter icing, you can always add a little more or less of the milk and confectioners' sugar to get a good spreading consistency.
Assembly
Place one layer of cake on a cake dish.
Spread a generous amount of icing.
Place the second layer of cake on top.
Spread the remaining icing onto the cake.