Dark Chocolate Creamy Four Layer Cake Recipe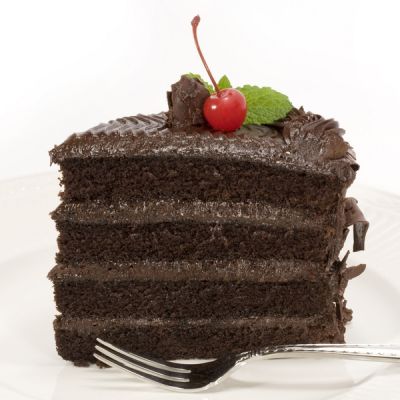 A Rich and delicious recipe for dark chocolate creamy four layer cake.
Ingredients
Cakes
1 3/4 cups flour
2 cups granulated sugar
3/4 cup cup cocoa
1 1/2 tseaspoons baking soda
1 1/2 tseaspoons baking powder
1 teaspoon salt
2 eggs
1 cup milk
1 1/2 teaspoon vanilla extract
1/2 cup oil
1 cup hot water
Frosting
1 1/4 cups granulated sugar
1/3 cup unsweetened cocoa powder
1 cup whipping cream
1/2 cup semisweet chocolate
2 teaspoon vanilla extract
1 cup cream cheese, at room temperature
1 cup butter, at room temperature
Directions
Preheat oven to 350 degrees F. Grease and flour two, 8 inch cake pans.
In a large bowl, combine flour, sugar, cocoa, salt, baking soda and baking powder.
Using an electric mixer, beat eggs with milk, oil and vanilla until well combined then add in flour mixture. Beat for 2 minutes.
Add 1 cup hot water, beat just until combined.
Pour into cake pans and bake, 35-40 minutes or until a toothpick inserted in the center comes out clean.
Let cool 5 minutes then remove to a rire rack to cool completely. once cool, cut each cake into two layers.
To make frosting, Whisk sugar, cocoa, and whipping cream in a medium saucepan. Cook slowly over medium heat, whisking constantly, until mixture comes to a gentle boil. Cook 1 minute. Remove from heat and stir in chocolate until melted. Stir in vanilla. Let cool to room temperature.
In a large bowl, beat cream cheese and butter on high speed of electric mixer until smooth. Add cooled chocolate mixture and beat on medium speed until well blended.
Using a serving plate, layer the cakes and frosting to serve.