Dark Chocolate Fudge Recipe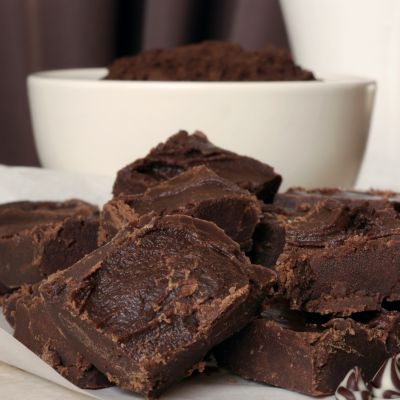 This dark chocolate fudge recipe is a fool-proof easy method for fudge.
Ingredients
Makes (1) 8x8 inch baking pan
3 cups semi sweet dark chocolate chips
1 (14 ounce) cans sweetened condensed milk
1/8 teaspoon salt
1 1/2 teaspoons pure vanilla extract
Directions
Fudge
Line an 8x8 inch baking pan with aluminum foil, going up the sides.
Grease the foil on the bottom and sides with a little butter.
The foil makes it easier to remove the fudge.
Use a heavy medium sized saucepan.
Over low heat, melt the chocolate chips with the condensed milk and salt.
Remove from the heat and stir in the vanilla.
Pour into the prepared pan and spread evenly with a spatula.
Cover with plastic wrap.
Place into the refrigerator to chill at least for two hours.
Once chilled, remove the fudge from the pan and peel off the foil. Cut into pieces.
Store refrigerated in an airtight container.