Decadent Triple Chocolate Cake Recipe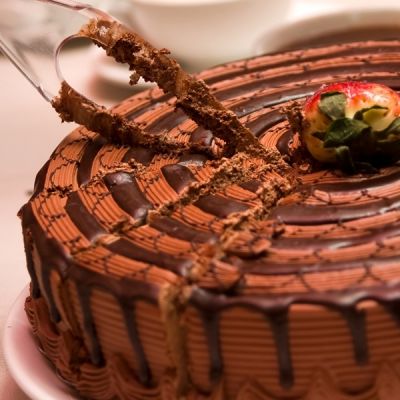 A very yummy recipe for Chocolate cake with chocolate frosting and drizzle. A very decadent dessert for any special occasion.
Ingredients
Chocolate Cake
1 cups all-purpose flour
1 cups sugar
1/2 cup cocoa
1 teaspoons baking powder
1/2 teaspoons baking soda
1/4 teaspoon salt
1 teaspoon espresso powder
1/2 cup milk
1/4 cup vegetable oil
1 eggs
1 teaspoons vanilla extract
1/4 hot water
Chocolate Frosting
2 3/4 cups confectioners sugar
6 tablespoons unsweetened cocoa powder
6 tablespoons butter
5 tablespoons evaporated milk
1 teaspoon vanilla extract
Chocolate drizzle
1/2 cup semi sweet chocolate
Directions
Preheat oven to 350 degrees F.Grease a 9 inch cake pan.
Add flour, sugar, cocoa, baking powder, baking soda, salt and espresso powder to a large bowl or the bowl of a stand mixer. Add milk, vegetable oil, egg, and vanilla and mix together on medium speed until well combined. Reduce speed to low and add hot. Beat on high speed for about 1 minute.
Bake for 30-35 minutes, until a toothpick or cake tester inserted in the center comes out clean. Remove from the oven and allow to cool for about 10 minutes, remove from the pan and cool completely.
For the Chocolate Frosting. In a medium bowl, sift together the confectioners sugar and cocoa, and set aside. In a large bowl, cream butter until smooth, then gradually beat in sugar mixture alternately with evaporated milk. Blend in vanilla. Beat until light and fluffy. Frost the completely cooled cake.
Place chocolate in microwaveable bowl. microwave on 1-2 min. or until chocolate is almost melted, stirring every 30-45 seconds. Stir until chocolate is completely melted. Pour into a piping bag and pipe a swirl starting at the center on the cake ending at the very edge to is just drizzles down the edge.