Deep Fried Sugar Donuts Recipe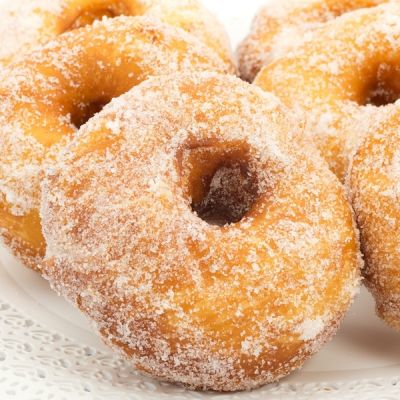 A very yummy recipe for deep fried sugar coated donuts.
Ingredients
2 (.25 ounce) envelopes active dry yeast
1/4 cup warm water
1 1/2 cups warm milk
1/2 cup granulated sugar
1 teaspoon salt
2 eggs
1/3 cup shortening
5 cups all purpose flour
1 quart vegetable oil for frying
Topping
1/2 cup granulated sugar
Directions
Sprinkle the yeast over the warm water, and let stand for 5 minutes, or until foamy.
In a large bowl, mix together the yeast mixture, milk, sugar, salt, eggs, shortening, and 2 cups of the flour. Mix for a few minutes at low speed, or stirring with a wooden spoon. Beat in remaining flour 1/2 cup at a time, until the dough no longer sticks to the bowl.
Knead for about 5 minutes, or until smooth and elastic.
Place the dough into a greased bowl, and cover. Set in a warm place to rise until double.
Turn the dough out onto a floured surface, and gently roll out to 1/2 inch thickness. Cut with a floured doughnut cutter. Let doughnuts sit out to rise again until double.
Heat oil in a deep-fryer or large heavy pot to 350 degrees F.
Slide doughnuts into the hot oil using a wide spatula. Turn doughnuts over as they rise to the surface. Fry doughnuts on each side until golden brown. Remove from hot oil, dip into sugar to coat.
let cool on a wire rack.