Devils Food Cake Surrounded With Chocolate Recipe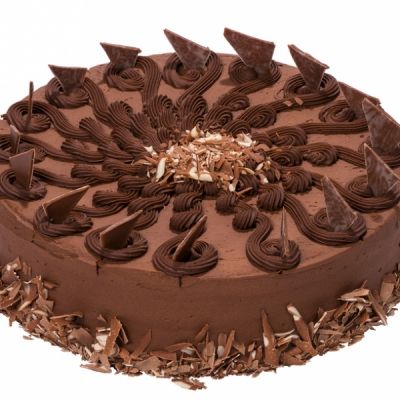 This Devils Food Cake Recipe has chocolate ganach inside and is surrounded by even more chocolate.
Ingredients
Cake
Butter and flour, for spring form pan
2 cups pastry flour
3/4 cup cocoa powder
1 1/2 teaspoons baking soda
1/2 teaspoon salt
1 cup unsalted butter, room temperature
2 cups sugar
4 eggs
1/2 cup plus 2 ounces buttermilk
1/2 cup plus 2 ounces brewed coffee
1 teaspoon vanilla extract
Milk Chocolate Ganache
1 cup heavy cream
1/2 pound milk chocolate
Chocolate Frosting
1 1/2 cup (1 stick) unsalted butter
1 cup cocoa (regular, not dark)
4 1/2 cups powdered sugar
7 Tablespoons milk
1 1/2 teaspoons vanilla extract
Dark Chocolate Frosting
6 Tablespoons butter
2 teaspoons vanilla extract
3 cups powdered sugar
3/4 cup dark cocoa powder
1/3 cup milk
Garnish chocolate pieces
Thin chocolate wafers
White and Chocolate Shavings
White Chocolate and Cream Chocolate bars or chocolate chunks of good quality chocolate.
Directions
Milk Chocolate Ganache
Make a day or at least several hour ahead so it will be cold.
In a medium pot over high heat bring the cream to a boil. Remove from the heat and stir in the chocolate.
Stir rapidly until all the chocolate has melted and the mixture is a smooth even color.
Cool to room temperature stirring occasionally. Cover and refrigerate overnight. Whip the ganache in a chilled bowl until stiff peaks form, do not over whip.
Devils Cake
Preheat the oven to 325 degrees F.
Butter and flour a 10-inch springform pan.
Sift the flour, cocoa, baking soda, and salt 3 times, set aside.
Cream the butter with the sugar until light and fluffy. Add the eggs 1 at a time beating well after each addition.
Combine the buttermilk, coffee and vanilla extract.
Mix in 1/3 of the dry ingredients, then half the wet ingredients. Repeat with the remaining dry and wet ingredients, finishing with dry.
Pour the batter into the prepared cake pan.
Bake for 1 hour, until a skewer inserted in the middle of the cake comes out clean. remove the cake from the pan after 15 minutes. Cool completely. Cut the cake into 2 layers.
Chocolate Frosting
Melt butter. Sift cocoa to eliminate lumps, then stir into butter.
Alternately add powdered sugar and milk, mixing to a spreading consistency.
Add a small amount of additional milk if needed. Stir in vanilla. This make 2 cups.
Dark Chocolate Frosting
Cream butter and vanilla.
In a separate bowl, combine powdered sugar and cocoa powder. Add dry ingredients to creamed mixture.
Slowly add milk until frosting reaches desired consistency, then beat another 5 minutes creamy.
Assembly
Put one layer of cake on a cake plate and spread the Ganache in the middle. Put the top layer onto the cake and frost the entire cake with light chocolate frosting.
Fill the piping tool with dark chocolate, garnish the cake.
Using a vegetable peeler, peel the white and milk chocolates. Sprinkle on the top and around the bottom outside of the cake.