Dijon Herb Chicken Breasts Recipe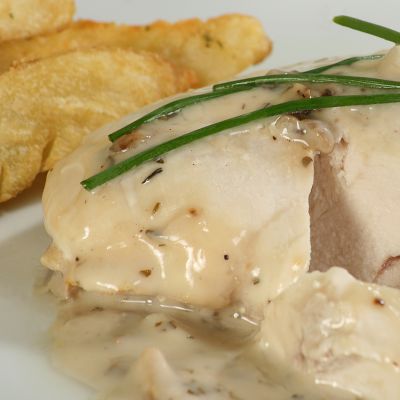 Tender, juicy and easy to prepare Dijon herb chicken breasts.
Ingredients
1 to 1-1/2 lbs. chicken breasts
4 oz. cream cheese, at room temperature
6 Tablespoons Dijon mustard
1 clove garlic, minced
1/2 teaspoon seasoning salt
1/2 teaspoon parsley flakes
1/2 cup chicken broth
1 Tablespoon. canola oil
Directions
Preheat oven to 375F.
Grease a baking dish with non-stick cooking spray or butter. Lay chicken breasts in the dish.
Put the softened cream cheese into a bowl. Add mustard, garlic parsley and seasoning salt and whisk until well incorporated. Add chicken broth and oil and continue whisking until the ingredients are blended.
Pour the sauce over the chicken. Cover the baking dish with aluminum foil.
Bake for 40 minutes or until a meat thermometer reads 180F degrees.
Using a spoon, gently stir the sauce and spoon over the chicken.
Serves 4-6.