Donuts - Krapfen - Traditional German Recipe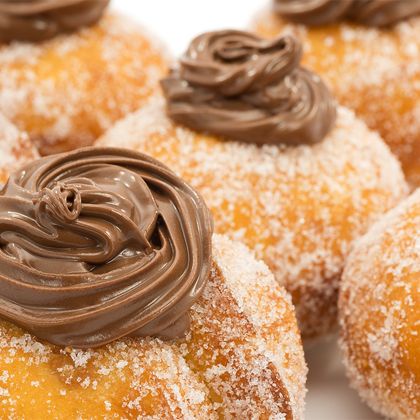 Krapfen are donuts ade without the hole, and filled with jam.
Ingredients
Makes 12-18 donuts
The Krapfens
3-4 cups all purpose flour
1/4 cup granulated sugar
1 1/2 teaspoons salt
1 1/4 cups warm water (110ňöF)
5 teaspoons active dry yeast
2 egg yolks, beaten
1/4 cup butter, at room temperature
grated rind of 1 lemon
1/4 cup plum or apricot jam
granulated sugar for coating
Chocolate Frosting
1/4 lb bittersweet dark chocolate
3/4 cup butter
1/2 teaspoon espresso powder, dissolved in 1/2 Tablespoon hot water
1 teaspoon pure vanilla extract
3/4 cup sifted confectionersí sugar
1 1/2 Tablespoons unsweetened cocoa powder
1/4 teaspoon salt
1/2 cup butter
1/2 cup heavy cream
*It is best to use a cooking oil with a high smoke point.
Directions
The Krapfens
Mix the 2 cups flour with the sugar and salt.
Make a well in the center and add the 1/4 cup warm water with the yeast.
Allow this mixture to rise for 20 minutes.
Use an electric mixer on low speed to beat in the egg yolks, remaining water, and butter. Beat until well blended.
Add lemon rind and remaining flour and mix until soft dough is formed.
Knead 5 to 10 minutes, until the dough is smooth and elastic.
Place the dough in a lightly greased bowl.
Cover and let rise in a warm place until doubled in bulk, about 1 1/2 hours.
Punch the dough down. On a lightly floured board, roll the dough until it is 1/4 inch thick. Cut the dough into 2-inch rounds. On half of the rounds, place about 1 teaspoon of jam or jelly. Moisten edges with water.
Place a second round on top. Press firmly to seal edges. Place onto a baking sheet lined with parchment paper and lightly floured.
Let the krapfens rise for 15 minutes.
In a saucepan or skillet with high sides heat 2 inches of oil to 350ňöF-375ňöF.
Use a flipper to place 3 or 4 Krapfens into the hot oil and cook for a couple minutes on each side until browned. Use long tongs to flip as required so they brown lightly and you donít over brown them.
Cut into the first donut to be sure it is done in the center so you can better judge the cooking time. Remove cooked donuts onto a plate lined with paper towels. Put a little granulated sugar into a brown bag, put the donut in and lightly toss. Set the donuts onto a serving plate and
pipe some chocolate on top of each Krapfen.
Chocolate Frosting
Chop chocolate into small pieces and place in a heatproof bowl with the butter. Put over pan of simmering water. Whisk together as chocolate and butter soften to a smooth chocolate. Remove from heat and stir in espresso and vanilla. Cool to room temperature.
In a mixing bowl, stir together the confectionersí sugar, cocoa and salt.
Place remaining 1/2 cup butter and half of the powdered sugar mixture into a mixing bowl. Beat with an electric mixer on medium speed. Add remaining confectionersí sugar and slowly add and beat in the cream.
Add the melted chocolate mixture, beating in on medium to high speed until the frosting is shiny and smooth.
Bring to room temperature before using.
You can freeze any extra frosting you have in an airtight container.