Double Bacon Burger Recipe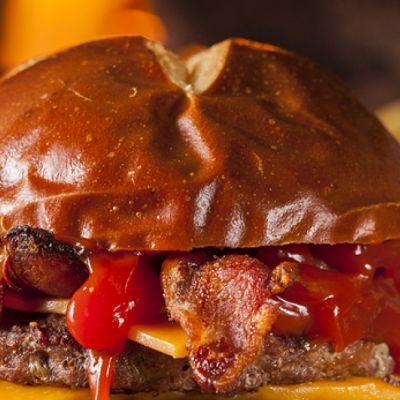 This double bacon burger recipe is bacon on the inside and bacon on the outside! The meat has finely chopped bacon in the meat so you can imagine the fantastic flavor your are going to enjoy when you bite into this burger.
Ingredients
1 1/2 pounds lean ground beef
12 slices bacon, uncooked
1-1 1/2 Tablespoon steak seasoning
1 teaspoon garlic powder
1 Tablespoon minced dried onion
1/4 cup Worcestershire sauce
salt and pepper
6 brioche buns
6 slices cheddar cheese
Ketchup
(Makes 6 servings)
Directions
Cook the bacon in a medium skillet set over medium heat until cooked through and crispy.
Transfer cooked bacon to a paper towel lined plate to absorb the grease.
Set aside 6 of the 12 slices of bacon.
Chop the remaining 6 slices of bacon.
In a large mixing bowl, combine the chopped bacon, ground beef,steak seasoning, garlic powder, dried onion, Worcestershire sauce, salt and pepper.
Using clean hands, gently mix all ingredients until well combined.
Form the meat mixture into 6 patties.
Transfer the patties to the freezer and allow to cool for 30 minutes before grilling.
When ready to cook, grill patties over medium high heat for 5 minutes on each side. Check for doneness, you do not want any pink left showing.
After they are cooked, allow patties to rest for 5 minutes before serving.
Serve patties in a brioche bun. Top with cheddar cheese, a slice of bacon, ketchup and any of your favorite toppings.