Double Cheeseburger Recipe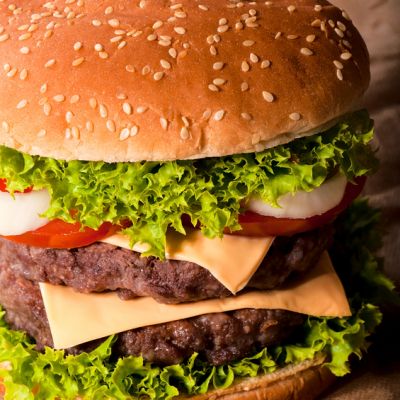 This double cheeseburger recipe gives you the recipe to season up your hamburger meat so it will taste as good as it looks.
Ingredients
2 Tablespoons water
1 egg
1/4 cup dry breadcrumbs
1 small onion, diced
2 teaspoons Dijon mustard
1/2 teaspoon salt
1/2 teaspoon Worcestershire sauce
1/2 teaspoon pepper
1 pound lean ground beef
2 hamburger buns
Lettuce
1 large tomato, sliced (optional)
4 slices cheddar cheese (optional)
4-6 red onion rings (optional)
(Serves 2)
Directions
In a medium bowl, combine egg and water. Beat well with a fork.
Add bread crumbs, onion, mustard, salt, Worcestershire sauce and pepper. Mix until well combined.
Add ground beef. Using clean hands, mix until well combined.
Shape the hamburger mixture into four 1/2-inch thick patties.
Transfer patties to the refrigerator and allow to cool for 30 minutes before serving.
When ready to cook, place patties on greased grill over medium-high heat.
Cook for 5 minutes on each side, or until no longer pink in the centre.
To serve, prepare hamburger buns with your favourite condiments. Place a piece of lettuce, then one patty, a slice of cheese, another patty, and another slice of cheese. Top with tomato, lettuce and onion, if desired.
Serve immediately.