Double Chocolate Hazelnut Thumbprint Cookies Recipe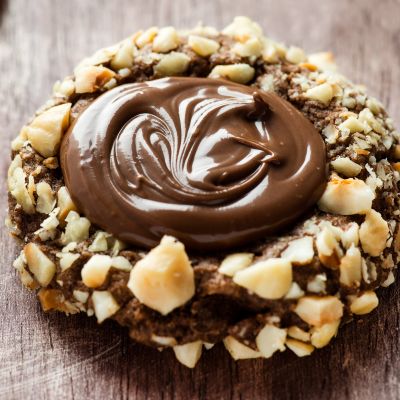 Make these beautiful cookies for any occasion.
Ingredients
For the cookies:
1 1/3 cups unbleached all purpose flour
1/2 teaspoon salt
1/2 teaspoon baking powder
1/4 teaspoon baking soda
1 stick (4 ounces) butter, at room temperature
1 1/3 cups granulated sugar
1/2 cup unsweetened cocoa powder, sifted
3 large eggs
3/4 teaspoon pure vanilla extract
3 ounces chocolate, melted and cooled slightly
1 cup finely chopped hazelnuts
For the chocolate filling:
3 ounces chocolate, coarsely chopped (1/2 cup)
4 Tablespoons butter, cut into 3 pieces
Directions
Cookies:
Preheat the oven to 350°F. Line large baking sheets with parchment paper.
In a medium size bowl,combine the flour, salt, baking powder, and baking soda.
In a large bowl, use an electric mixer to beat the butter, sugar, and cocoa powder on medium speed for 2 minutes until well combined.
Beat in the eggs, one at a time, until well combined.
Add the vanilla and continue mixing on medium speed until mixture is smooth, about 1 minute.
Add the melted and cooled chocolate and beat until just blended.
On low speed, gradually beat in the flour mixture until combined. Fold in the chopped hazelnuts. Dough may be sticky and wet.
Using a 1 1/2-tablespoon scoop, drop rounds of dough onto prepared baking sheets, spacing at least 1 1/2-inched apart.
Place into the preheated oven and bake until the cookies are puffed and the tops are cracked, 11 to 13 minutes.
As soon as the cookies are out of the oven, use the rounded side of a teaspoon or the end of a thick-handled wooden spoon to make a deep well in the center of each cookie.
Let the cookies sit on the cookie sheet for 5 minutes before transferring to a wire rack to cool completely.
Chocolate Filling:
Melt the chocolate and butter either in the top of a double boiler over medium heat or in the microwave in 30 second bursts, stirring between each burst, until the mixture is melted and smooth.
Be careful not to overheat. Set aside until cool and slightly thickened.
Spoon the chocolate into the wells of the cooled cookies.
Store in an airtight container.