Double Layer Chocolate Cake With Peanut Caramel Filling Recipe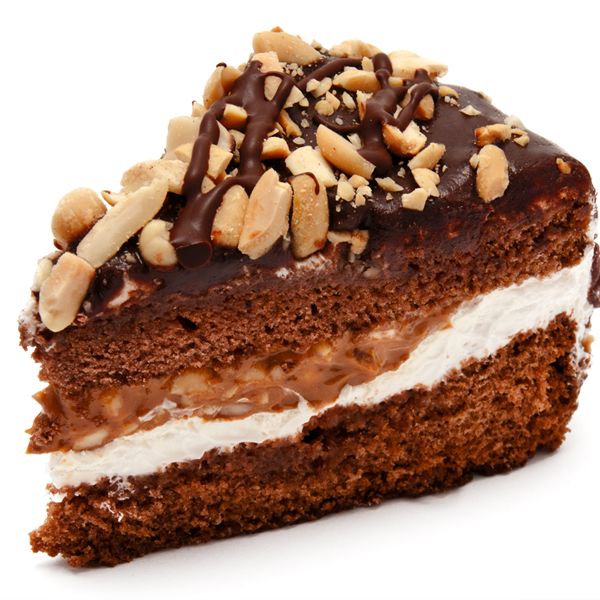 A delicious two layer chocolate cake with peanut caramel filling a rich delicious chocolate frosting.
Ingredients
Cake
2 cups granulated sugar
1 3/4 cups all-purpose flour
3/4 cup Cocoa powder
1 1/2 teaspoons baking powder
1 1/2 teaspoons baking soda
1 teaspoon salt
2 eggs
1 cup milk
1/2 cup vegetable oil
2 teaspoons vanilla extract
1 cup boiling water
Whipped Layer
1/2 cup heavy cream
1 tsp vanilla
1 tbsp. confectioners sugar
Peanut Caramel
1 cups sugar
1/4 cup water
3/4 tbsp light corn syrup
1/4 cup heavy cream
1 tbsp unsalted butter, at room temperature
1/2 cup salted peanuts
Chocolate Frosting
1 cup butter, softened
12 ounce semi-sweet chocolate, melted and cooled
6 cups confectioners sugar
1 cup, chopped peanuts
Directions
Heat oven to 350 degrees F. Grease and flour two 9-inch round baking pans.
To make the cakes. stir together dry ingredients in a large bowl. Add eggs, milk, oil and vanilla extract;
Beat on medium speed of electric mixer 2 minutes. Stir in boiling water. Pour batter into prepared pans.
Bake 30 to 35 minutes or until wooden pick inserted in center comes out clean. In the meanwhile prepare other layers below. When cake is ready, cool 10 minutes; remove from pan to wire racks.
Prepare whipping cream by beating 1/2 cup heavy cream until peaks form.
Prepare whipped layer: in a small bowl, beat the 1/2 cup whipping cream until soft peaks form. Blend in the confectioners sugar and vanilla extract. Beat until stiff peaks form.
To prepare the peanut caramel: put the sugar, water and corn syrup in a medium heavy bottomed saucepan, stir just to combine the ingredients and then put the pan over medium-high heat.
Heat, without stirring, until the caramel turns deep amber, 5-10 minutes.
Lower the heat a bit and, standing back from the saucepan add the cream and butter.
Be careful not to get splattered (it is very hot!) and stir to calm down the caramel and dissolve any lumps.
Stir in the peanuts and allow to chill slightly before using.
To make the chocolate frosting: In a large bowl, beat butter at medium speed with an electric mixer until creamy. Add chocolate, beating until combined. Beat in confectionersí sugar until light and fluffy.
To arrange, prepare on the plate that you will be serving it on and start with one chocolate cake layer. Spread whipped topping over cake and top with mostly cooled caramel peanut sauce.
Top with 2nd layer of chocolate cake, and spread chocolate frosting on top and sides. Garnish with chopped peanuts.