Dry Rub Ribs Recipe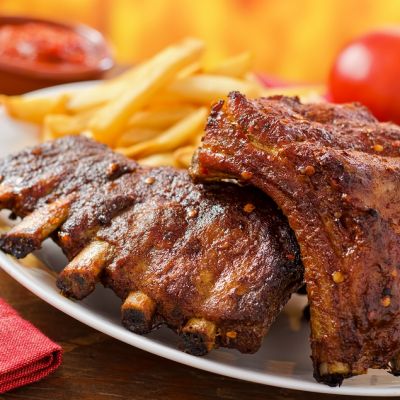 This dry rub ribs recipe is a simple method of baking ribs slowly on low heat. Delicious and tender on the inside, crispy on the outside.
Ingredients
2 pounds baby back ribs
For the Rub:
1/4 teaspoon cayenne pepper
1 teaspoon ground cumin
2 teaspoon paprika
1 teaspoon dry oregano
1 teaspoon granulated sugar
1 teaspoon salt
25 grinds fresh black pepper
3 tablespoons olive oil
Directions
Preheat oven to 300 degrees F.
Line a baking sheet with aluminum foil and grease the foil with olive oil.
In a small bowl, stir together the cayenne pepper, cumin, paprika, oregano, sugar, salt, and black pepper.
Prepare the ribs by removing any membrane from the bone side of the ribs.
Using your hands, rub the olive oil fully and evenly onto the ribs. Sprinkle even amounts of the rub onto each oiled rib then using your hands rub it evenly onto the ribs.
Spread the ribs out onto the baking sheet. Don't stack them.
Place into the oven and bake for 2 1/2 hours until the ribs are juicy on the inside and crispy on the outside.