Easy Bread Pudding Recipe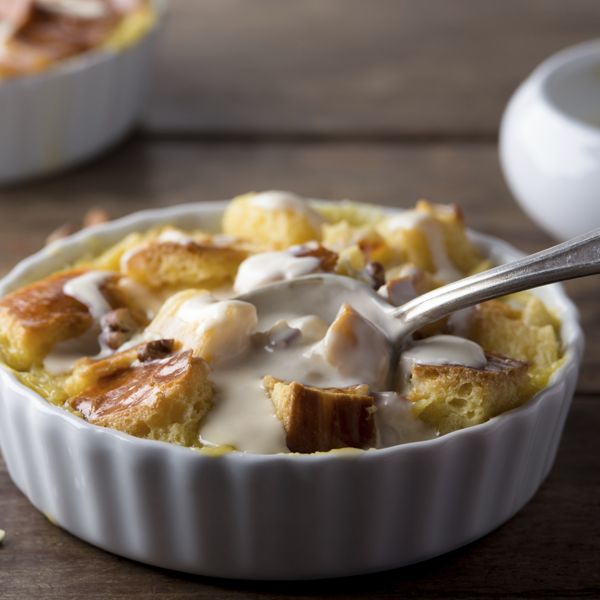 A cozy british favourite, this easy bread pudding sprinkled with walnuts and drizzled with vanilla custard sauce.
Ingredients
Serving Size - 8-10 servings
1 loaf stale French bread, brioche, or egg bread,cut into 1-inch squares (about 7 cups)

3 cups 2% milk

3 large eggs, lightly beaten

1 1/2 cups granulated sugar

1/2 cup light brown sugar

2 Tablespoons vanilla extract

1 teaspoon ground cinnamon

1/4 teaspoon ground allspice

3 Tablespoons unsalted butter, melted
Vanilla Custard
1 cup heavy cream

1 cup milk

1 teaspoon vanilla extract

6 Tablespoons granulated sugar

6 egg yolks

1/8 teaspoon rum extract (optional)
Garnish: 1/2 cup toasted walnuts, roughly chopped
Directions
Bread Pudding
Preheat oven to 350°F.
In a large bowl, put the cut bread and milk. Mix until the milk is absorbed by the bread.
Beat the eggs in a separate bowl. Add the sugar, brown sugar, vanilla, cinnamon, and allspice and mix until well combined.
Pour the egg mixture over the bread. Gently stir to combine.
Let the bread/egg mixture stand for 1 hour before proceeding.
In the bottom of 9x13 inch baking pan, pour the melted butter.
Spread around, being sure to evenly coat the bottom and sides of the pan.
Pour in the bread/egg mixture into the prepared pan. Bake for 40 minutes, or until the corners of the bread are browned and the pudding is set.
Allow the bread pudding to cool slightly on a wire rack while making the Vanilla Custard sauce.
Vanilla Custard Sauce
Heat the cream and milk in a medium saucepan, over medium high heat, until boiling. Keep a close eye as the milk can boil over very quickly.
Remove the milk/cream heat and stir in the vanilla.
Whisk the sugar and egg yolks together in a medium bowl until well combined.
In order to temper the egg yolks, whisk in a few tablespoons of the hot cream mixture. Continue to whisk constantly while you add half of the cream mixture.
Pour the egg yolk mixture back into the pan with the remaining cream. Using a wooden spoon, stir constantly over medium heat until the custard thickens.
Once thickened, remove the custard from heat and , if using, stir in the rum extract.
To serve
Spoon the bread pudding into individual ramekins.
Sprinkle with chopped walnuts and drizzle over some of the hot custard sauce.
Serve warm.