Easy Cheesy Pizza Recipe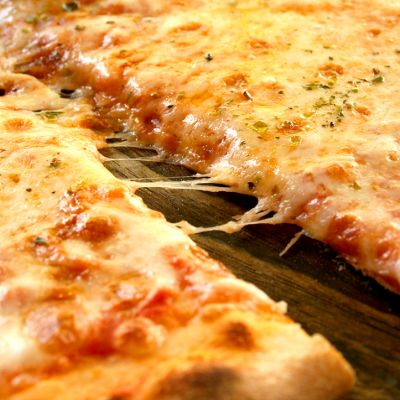 The kids will love this all cheese pizza!
Ingredients
Pizza Crust
2 and 1/4 teaspoons yeast (1 standard packet)
1 and 1/3 cups warm water (105-115F degrees)
3 and 1/2 cups all purpose flour, plus more as needed
2 Tablespoons olive oil, plus more for brushing crust
3/4 teaspoon salt
1 Tablespoon granulated sugar
cornmeal, for dusting
(Makes two 12 inch pizzas)
Topping (for one 12 inch pizza, double if making 2)
1/2 - 3/4 cup pizza sauce, depending how much you like (homemade or store-bought)
8 ounces sliced mozzarella cheese
1 and 1/2 cups shredded mozzarella cheese
2-3 Tablespoons grated Parmesan cheese
Italian seasoning to taste
Directions
Pizza Crust
In a large mixing bowl combine the yeast and warm water. Stir it and let sit for 5 minutes until the yeast is foamy and dissolved.
Add flour, olive oil, salt, and sugar. Mix for 1 minute.
Once ingredients are mixed, knead for 7 minutes.
If dough is too wet, add up to 1/4 cup more flour.
After kneading, your dough should be smooth and elastic.
*Note: you can knead with a dough hook and electric mixer or by hand.
Shape dough into a ball and place in a large mixing bowl that has been coated lightly with olive oil.
Turn it over to coat all sides. Cover tightly with plastic wrap and allow to rise in a warm spot for 30 minutes.
Punch the dough down.
Divide the dough in half.
Roll each half into a ball and let rest, covered in two separate lightly greased bowls for 15 minutes.
Prepare the toppings while the dough rests.
*If you only are making one pizza then you can freeze the second ball in a ziploc bag or airtight container.
Assembly:
Preheat oven to 475F degrees.
Grease and dust pizza pan(s) with olive oil.
Sprinkle with cornmeal.
Flatten the dough into a 12-inch round circle, flattening and stretching the dough.
Top the crust with the pizza sauce, then the sliced mozzarella, then the shredded mozzarella, grated Parmesan, then sprinkle with Italian seasoning.
Bake for 12-15 minutes.