Easy Cherry Cheese Cake Pie Recipe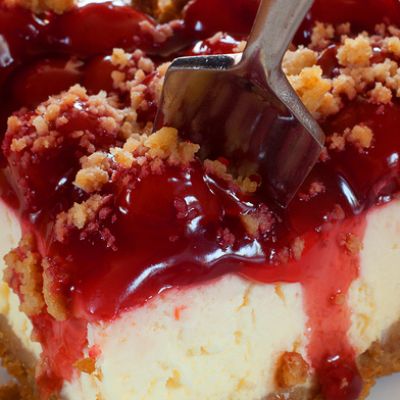 When it comes to a simple recipe, this cheese cake pie has you bake the graham crust, but the filling is a no-bake and you end up with a cool, light and delicious dessert.
Ingredients
Crust:
1 1/2 cups crushed graham crackers
1/4 cup butter at room temperature
3 Tablespoons granulates sugar
Filling:
8 ounces cream cheese at room temperature
1 cup confectioners' sugar
1 teaspoon pure vanilla extract
1 cup heavy cream
1 can cherry pie filling
Directions
Crust:
Preheat oven to 350F.
Have ready a pie plate.
In a mixing bowl combine the graham crackers, butter and sugar using a wooden spoon. Transfer to the pieplate and use your fingertips to press down onto the bottom and sides.
Reserve 1/4 cup of the crumbs and place them into a small oven proof dish.
Place the pie crust and bowl of extra crumbs into the preheated oven and bake for 12-15 minutes.
Remove and place onto a cooling rack. The crust must be cooled completely before you add the filling.
Set the extra crumbs aside to cool as well. These will be used later to sprinkle on top of the pie.
Filling:
Place a glass or metal mixing bowl into the freezer to chill for 10 minutes. You will use this one for the whipping cream later.
Place the cream cheese into another mixing bowl and using an electric mixer, beat until creamy. Add the confectioners' sugar and vanilla and beat to combine.
Take the chilled bowl from the freezer, pour in the heavy cream and whip until soft peaks form.
Add the whipped cream to the cream cheese mixture and mix in.
Transfer into the cooled pie crust and refrigerate for 2-3 hours.
Remove and spread the canned cherry pie filling on top.
Sprinkle the extra graham crumbs on top.
Keep the pie refrigerated until you serve and if there is any leftovers, cover and keep refrigerated.