Easy Chicken Chow Mein Recipe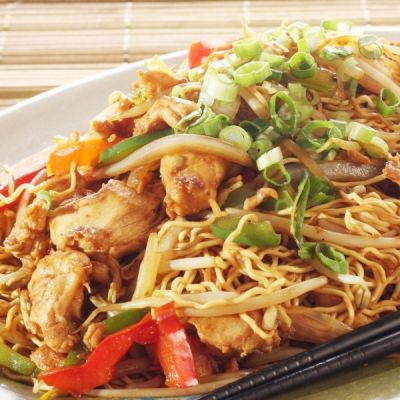 Easy recipe for Chicken Chow Mein which is always a hit for mealtime.
Ingredients
Serves 4
4 cups chow mein noodles
3 chicken breasts, cut into one inch cubes
2 Tablespoons olive oil
1 Tablespoon sesame oil
2 garlic cloves, peeled and finely chopped
1 medium red pepper, sliced into thin bite sized pieces
1 medium green pepper, sliced into thin bite sized pieces
8 spring onions, chopped
1 cup beansprouts
2 Tablespoon soy sauc
Directions
Put a large pan of water on to boil, then add the noodles.
Boil for 4 minutes. or until just tender. Strain and set aside.
Heat both of the oils in a large frying pan or wok, add the garlic and stir-fry for about 30 seconds.
Add the chicken and stir fry for until cooked and not pink.
Remove chicken from the pan with a draining spoon and set aside.
Add the peppers and stir fry for 4 minutes, then add the beansprouts and stir fry for1 minute.
Add the spring onions and stir fry for 1 minute.
Return the chicken and noodles to the pan.
Add the soy sauce and heat through, tossing to mix for 2 minutes.