Easy Chicken Fettucini Pasta Recipe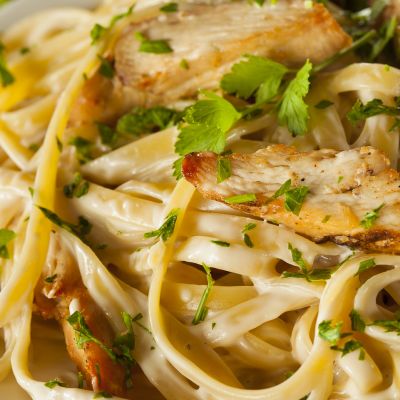 An easy chicken fettucini alfredo recipe garnished with fresh parsley.
Ingredients
1 lb chopped cooked chicken meat
8 Tablespoons butter, softened
1/4 cup cream
1/2 cup grated parmesan cheese
6 quarts water
1 teaspoon salt
1 lb fettuccine pasta ( dried or fresh)
freshly grated pepper
grated parmesan cheese
parsley (to garnish)
Directions
Cream the butter in a bowl with a wooden spoon until it is light and fluffy.
Beat in the cream a little at a time, and then beat in 1/2 cup grated Parmesan cheese, a few tbsp at a time.
Cover the bowl and set aside.
Prepare the chicken and keep it warm.
You can use leftover chopped cooked chicken, or dice skinless, boneless chicken meat and saute in olive oil or butter a few minutes until cooked but still tender.
Season as you like.
Set a large pasta bowl or casserole in a 250 degree F oven to heat while you cook the fettucine.
Bring the water and salt to a rolling boil in a large stock pot.
Drop in the fettuccine and stir gently with a wooden spoon or fork for a few moments to prevent strands from sticking.
Boil, stirring occasionally until the pasta is tender (soft, but al dente or resistant to bite).
Immediately drain the pasta into a colander.
Make sure it's completely drained before transferring to the hot pasta bowl.
Add the chicken and the creamed butter and cheese mixture and toss with the fettuccine and chicken until every strand is well coated.
Season with salt and freshly grated pepper.
Serve at once and pass grated Parmesan cheese and parsley to garnish.